Government transparency one of many benefits newspapers offer communities
Why newspapers continue to enhance society
(Editor's Note — National Newspaper Week is Oct. 7-13, 2018. This year's theme is: "Journalism matters. Now more than ever.")
Newspapers play multiple roles within governmental agencies, schools and homes, allowing readers to keep an eye on how taxpayers' money is spent, recent scores of local high school football teams, or to find events going on over the weekend.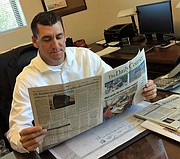 For Humboldt Unified School District Superintendent Dan Streeter, newspapers interface with the district on multiple levels. The first is the legal aspect – publishing the call for a bond measure, for instance.
"On another level, we really rely on the local paper to get out information and events," Streeter said, "and on a third level, there are some many things we pull from the paper for education like current events, and columns and editorials to point out an author's purpose and bias."
In addition, when students, teachers, staff or programs receive an award or honor, that news article may be cut out and posted on a school's bulletin board, sent to grandparents, or saved in a scrapbook.
The Town of Prescott Valley uses the newspaper for publication of legal notices, reporting on governmental expenditures, and assisting through notifications and coverage of meetings. All these things encourage healthy dialogue among citizens in any given location, said Town Manager Larry Tarkowski.
"A healthy democracy requires a robust newspaper and media to provide unbiased reporting for the democracy to function well," Tarkowski said.
The press is needed to oversee governmental expenditures, he added, "and also to praise those agencies and individuals that not only serve a community well, but go out of their way in the service to citizens."
Given the constraints newspapers presently are working under with financial limitations on hiring more journalists, "I think the Courier and Prescott Valley Tribune are doing the best they're able," he said.
Tarkowski would like to see more analytical type articles rather than "news of the day. But even the big boys struggle. They continue to do big stories, but not as much as they used to," he said.
At the county level, David McAtee, public information officer, said Yavapai County values the local newspapers "because they are a reliable solution for communicating with a diverse community. Every department of the Yavapai County government that touches the public regularly relies on the local newspaper to get their message out."
Some of those messages are included in legal notices that announce upcoming hearings such as Truth in Taxation, requests for public comments, changes in fee schedules, requests for proposals and for quotations, and publishing budget documents.
Some information the county gives to newspapers are not required by law, McAtee said. These might include recalls of food products or toys, Golden Plate awards, or statistics from law enforcement agencies.
Randy Garrison, vice chair of the Yavapai County Board of Supervisors, said he relies heavily on the newspapers to stay up to date on what is happening in nearby communities as well as around the county and state.
"And for the most part, I believe the articles and views of the reporters and editors tend to run fairly neutral, but not always," Garrison said, speaking for himself.
"I believe it is of utmost importance that our citizens receive fair and accurate information, and while my views or those of the editors may differ, people deserve to have arguments presented in a manner that allows for personal ownership."
He especially appreciates the reach the newspapers have in connecting with citizens.
"I use every form of media available, and the power of the press is hard to deny," Garrison said.
The City of Prescott sends out more than 120 press releases annually, and responds to at least that many inquiries from the newspaper, said John Heiney, Prescott's Community Outreach manager.
"It is important for government to be transparent in its proceedings, and the newspaper helps with this by publishing articles about government activities, as well as legally-required public postings," Heiney said.
The city continues to post its ordinances, public hearings, budget hearings, requests for bids and proposals, as required by law.
Heiney said Prescott's demographics indicate many residents are equally comfortable reading something in print as they are online. From the city's perspective, the newspaper continues to play an important role in the community, he added.
Related Stories
More like this story
SUBMIT FEEDBACK
Click Below to:
This Week's Circulars
To view money-saving ads...