Prescott's defensive unit coming together at the right time
Prep Football

Originally Published: October 12, 2018 12:09 a.m.
PRESCOTT — After walking off the field victorious against cross-town rival Bradshaw Mountain a week ago, the Prescott football team once again mustered enough effort defensively to dominate a game in the second half.
And for the third time this season, Prescott (5-2, 3-0 Grand Canyon) shut out an opponent in the second half, outscoring the previously undefeated Bears 6-0 on two Bryce Peters' field goals to take a 26-21 win after trailing 21-20 at halftime.
The Badgers have allowed 143 total points this season, or 20.42 per game. In the second half? Less than a touchdown and extra point at 6.86 per game.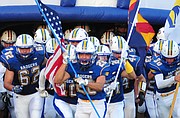 No. 3-ranked Saguaro (7-1) has allowed 10 more points than Prescott this season (153), while No. 5 Desert Edge (5-3), the team that came into Prescott in Week 1 and left with a 40-17 win, they've surrendered 158 total points this season.
In the end, the No. 11-ranked Badgers are a perfect 5-0 when allowing 10 points or less in the second half this season.
So who's behind Prescott's defensive unit that makes the Badgers a formidable opponent? Among many standout players, two names rise to the top: junior defensive end Aaron Greene and senior strong safety Colton Amos.
After the Coconino victory in Week 7, Prescott head coach Cody Collett said Greene's on-field physical abilities are almost unfair.
"He's 6-4, 225, and he can run like a deer. … In high school, it's almost not even fair sometimes out there," Collett said.
If you ask Greene about his stellar season (32 tackles, eight for loss, 8.5 sacks, four fumble recoveries and six blocked punts, two of which went for touchdowns in the same game), he just shrugs his shoulders.
"I'm kind of taking it as I go, trying to do my best, at the end of the season if I get accolades, I'm cool with that," Greene said. "I'm not too big on people paying attention to me, which will draw away from me. I'm going to just keep playing and hope people see it over time."
As for his keen ability to come up with the big play defensively when the Badgers need it most, he's ho-hum about that, too.
"It gets in my head that I need to do something to help our team," Greene about his second-half skills. "I use all the energy I can."
Amos, his partner in crime, leads the team with 117 tackles this season, or 16.7 per game. He now holds the program's all-time record for total tackles in a career with 314, and the senior still has three games to go.
But don't ask him about his personal records. The senior safety quickly refuses the spotlight and credits his teammates instead.
"We've all played together for some years now, we've been on varsity for a while. We have chemistry and this year we've realized the goal and that's what's motivating us," Amos said, adding that he isn't sure last week's effort against the rival Bears was his team's best defensive effort so far in 2018, but it's close.
"The scheme we are running, we are buying into it, we are taking it on with a whole head of steam," Amos said, pointing toward the versatility of the Badger defensive front.
"It always good to be versatile, our blitz packages come from a lot of different gaps. We keep the offense guessing and that's good," Amos said.
Finally, the best part about the defensive unit this season is the trust the coaches have instilled in their players, especially Amos.
"It's a big part, coaches put a lot of trust in me to make play calls," Amos said. "I like the pressure a lot."
That "pressure" will only continue to grow from this point forward. Prescott must take care of business in Week 9 (Mohave) and Week 10 (Lee Williams) before potentially setting up a Grand Canyon region title game with Mingus in Week 11.
If they continue to respond the way they have through the first eight weeks this season, Prescott fans may see their Badgers in the state playoffs for the first time in six years.
Brian M. Bergner Jr. is news/sports editor for The Daily Courier of Prescott News Network. Follow him on Twitter, Facebook, Instagram and SoundCloud at @TheEditorDesk. Email bbergner@prescottaz.com or call 928-445-3333, ext. 1106.
SUBMIT FEEDBACK
Click Below to: