Mitt Romney stumps for Senate hopeful McSally in Arizona
Originally Published: October 12, 2018 3:12 p.m.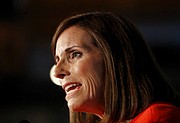 GILBERT, Ariz. — Facing a tight race for an open U.S. Senate seat in Arizona, Republican candidate Martha McSally has recruited former GOP presidential nominee Mitt Romney for a Friday rally.
Romney, a heavy favorite in the Senate race in Utah, will appear with McSally in the Phoenix suburb of Gilbert. The area is heavily populated by members of The Church of Jesus Christ of Latter-day Saints, and Romney is arguably the nation's best-known member of the Salt Lake City-based faith.
McSally is in a tight race with Democrat Kyrsten Sinema for the seat being vacated by Republican Sen. Jeff Flake.
Both women left their seats in the U.S. House to seek the Senate post.
The rally comes just days after early voting began in Arizona for the Nov. 6 election.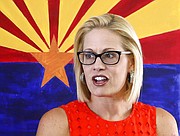 Sinema, who was raised as a Latter-day Saint, is a moderate, three-term congresswoman representing parts of metro Phoenix. She began her political career as a Green Party activist and now casts herself as an independent.
She has built a moderate record in Congress, often supporting Republican bills.
McSally is a one-time moderate who is now in her second term representing parts of southern Arizona. She has strongly supported President Donald Trump.
The GOP has worked hard to cast Sinema as a liberal who is too far left for Arizona. Recent attack ads include pictures of a younger Sinema in a pink tutu at a protest against the Iraq war.
McSally also says Sinema, a former rape crisis counselor, was soft on punishment for child molesters.
Sinema's campaign said the attacks are a sign of an increasingly desperate McSally camp.
---
AP writer Bob Christie in Phoenix contributed to this story.
SUBMIT FEEDBACK
Click Below to:
More like this story