What grade did your school receive?
State letter grades for area districts, charters a 'snapshot' of student achievement

By
Nanci Hutson
|
HutsonNanci
Originally Published: October 11, 2018 8:37 p.m.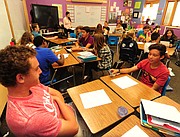 Like a parent reviewing their own student's report cards, area district and charter school leaders' reaction to the state's A-F ratings of all state schools have generated enthusiasm and disappointment.
Leaders are delighted to see where their schools have excelled in the instruction of students, or where progress has been made. They likely are OK with staying the course, or even seeing where more attention and resources need to go to benefit students who attend those schools.
Chino Valley Unified School District Assistant Schools Superintendent Cindy Daniels praised all of their faculty and staff for doing a "phenomenal job" retaining their scores with 30 percent student mobility and 20 percent annual staff turnover.
Where grades dropped one or two letters, or earned a failing grade, school leaders said they are looking for answers. They want to ensure their schools are known by students, parents and the public as havens of rigorous academic pursuits.
In Prescott, La Tierra Community School Director Lenka Studnicka admitted she was "crushed" to learn their now K-7 charter school earned the only failing grade in the Quad-City area. She intends to file an appeal – Oct. 25 is the deadline.
In the two years since she was hired, Studnicka said the school has raised the academic bar for its student body of about 135 students. The expeditionary school has transitioned into a "whole child" focus that has many of its students scoring above state average in such subjects as math and science. With such progress, she said she finds it "mind boggling" the school could earn such a grade.
"I take this very seriously," Studnicka said. "This is not going to happen next year. It just can't."
BIG PICTURE
Prescott Unified Schools District Superintendent Joe Howard, too, is wincing a bit over some low grades – Lincoln Elementary dropped from a B grade last year to a D this year and Taylor Hicks Elementary went from a B to a C.
All district leaders are invested in figuring out how to better monitor student progress and offer interventions to struggling students. Class sizes at certain grade levels in the schools will also be closely monitored, he said. Efforts will also be made to duplicate successes, he said.
Statewide, a number of educators object to the A-F labels. Those officials suggest the scores do not take into account socio-economic diversity or other specialty learning needs.
State Board of Education leaders argue the A-F labeling system is a means to push for the continued academic improvement demanded by taxpayers.
This year, 22.67 percent of K-8 schools and 22.69 percent of high schools earned the top score, up from 19.74 percent and 19.33 percent last year.
"We set the A level to recognize distinguished academic performance that is significantly higher than the state average," said Board of Education President Luke Narducci in a news release. "We wanted the bar to be high enough that principals, teachers and students have something to strive for. I'm delighted to see that academic achievement is increasing."
A-F letter grades are compiled from AZMerit test scores, high school graduation rates and other indicators that a student is ready for the next grade level, according to board officials.
"My personal concern about this A-F labeling system, unique to Arizona, has always been that reducing/diminishing all of the work that we do in our schools to a single letter is dangerous and political," Howard said, noting PUSD was one of 44 out of 250 state districts to receive district-wide accreditation this year. "This type of labeling is not in our toolbox of best practices in education … However, it is the system that our state has chosen to use, and so if we do not navigate it well, it will hurt our school district, community and children."
PUSD has much to boast, and district leaders are committed to showcasing that effort, Howard said.
"We will continue to use multiple sources of data to check our work, and we will continue to use research-based best practices as our instructional strategy," Howard said.
ACCOUNTABILITY
To Humboldt Unified Schools Superintendent Dan Streeter, these report cards are a matter of public "accountability."
Every day, Streeter is a proud district ambassador for all the teachers, administrators and support personnel he said make their students' academic development a top priority. He sees these report cards as a reflection of intentional work to assure continual student achievement.
"When a change needs to be made, we make that change," Streeter said. "I would challenge any school district in the state of Arizona to show me a better group of principals and a more dedicated staff than what the Humboldt Unified School District has right now, today."
A-F labels for Quad-City districts and area charters
Prescott Unified: 2017-18 16-17
Prescott High School B B
Prescott Mile High Middle B B
Granite Mountain B C
Abia Judd Elementary A B*
Lincoln Elementary D B
Taylor Hicks Elementary C C
Abia Judd Elementary-B (on review A)
Humboldt Unified: 2017-18 16-17
Bradshaw Mountain High B B
Bradshaw Mountain Middle C C
Glassford Hill Middle C C
Coyote Springs Elementary B B
Granville Elementary C B
Humboldt Elementary B A
Lake Valley Elementary B C
Liberty Traditional A A
Mountain View Elementary B C
Chino Valley Unified: 2017-18 16-17
Chino Valley High School C C
Del Rio Elementary B B
Heritage Middle B B
Charters: 2017-18 16-17
Acorn Montessori A A
Agribusiness & Equine Ctr. A A
BASIS Prescott A A
Canyon View Prep Academy B A
Franklin Phonetic B B
La Tierra Community F C
Mingus Springs B C
Mountain Oak B D
Northpoint Expeditionary B C
Park View Middle D A
Paulden Community C C
Prescott Valley Charter B N/A
Skyview A B
Tri-City College Prep A A
Willow Creek A D
More like this story
SUBMIT FEEDBACK
Click Below to:
This Week's Circulars
To view money-saving ads...