Upset win over Western puts Yavapai in thick of Division I volleyball race
Junior College Volleyball
By
Doug Cook
|
dougout_dc
Originally Published: October 10, 2018 11:41 p.m.
PRESCOTT ­­­­— It's no secret: Crunch time is here for the Yavapai College volleyball team in ACCAC Division I play.
The Roughriders entered the week one match under .500 in conference — several matches behind unbeaten D-I frontrunner Arizona Western College — and they needed a jolt.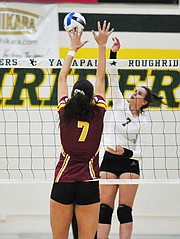 On Wednesday, Oct. 10, at Walraven Gym, Yavapai seemed resuscitated, rallying late to upset NJCAA D-I No. 20-ranked Western, 3-2, in a thrilling marathon match to possibly put the Roughriders back in the hunt for the league crown.
The Roughriders may have played as well as they have all season, posting a 22-25, 25-20, 21-25, 25-23, 21-19 victory.
Outside hitter Nynke de Vries led Yavapai's attack, tallying a team-high 20 kills (.205 hitting percentage). She also recorded a solo block and three block assists, as well as a team-best 17 digs.
Yavapai middle blocker Makenna Busse said playing in front of the home crowd provided the team a lift.
"Playing at home is always awesome – we feed off of them and their energy," said Busse, who rattled off 11 kills, a solo block, five block assists and four digs. "There was also a willpower within the team to win, and we all really had it [Wednesday night]."
The Roughriders, with five matches to go in the regular season, evened their conference record at 4-4 and moved to 13-8 overall. They also improved to 6-1 at home.
The Matadors' record dropped to 6-1 in the ACCAC, ending their three-match winning streak.
"They're the most athletic team in our conference, and they hit the ball hard," Yavapai coach Zach Shaver said of Western. "We're built for ball control. We passed really well [Wednesday] and set up our offense. We like to get into long rallies and force them into doing that."
In the ACCAC's three-team D-I standings, Yavapai is 1-1 against Western with one match remaining versus the Matadors at 7 p.m. Friday, Oct. 19, in Prescott. The Roughriders also have split 1-1 with defending D-I conference champion Eastern Arizona (15-7 overall, 6-2 ACCAC). They have one match left against the Gila Monsters Oct. 23 at Prescott Valley Event Center.
"Moving forward, splitting with Eastern and Western, it helps us because we know we can play with them," said Busse, whose Roughriders now have two wins against NJCAA D-I Top 20 teams (3-1 over Seward County CC Aug. 24). "I'm very proud of our team. We stepped up and fought back when they responded, and we powered through."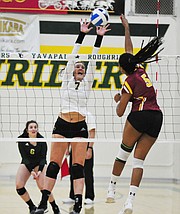 Added Shaver, "Every single player contributed to [Wednesday's] win. It was a total team win. I'm really proud of the team in showing a lot of determination. We didn't get rattled. It was probably one of our top three best matches for passing."
In Wednesday's victory, the Roughriders were also guided by freshman middle blocker Lacie Tenney, who this week was named ACCAC D-I player of the week for the second time this season. Tenney finished with 15 kills, one solo block and seven block assists. Setter Pilar Daugherty had 52 assists and 14 digs, and libero Victoria McCarty registered a team-best 21 digs.
Shaver credited Busse and Tenney for their efforts in the back-and-forth Game 5, as well as de Vries.
"She [de Vries] especially stepped up in crunch time, when we really needed it," Shaver added.
UP NEXT
Yavapai plays the second match of its current four-match home stand at 7 p.m. Friday, Oct. 12, versus ACCAC D-II frontrunner Glendale CC (14-2 overall, 7-2 ACCAC going into Wednesday) at Walraven Gym.
Western welcomes ACCAC D-II foe Phoenix College (4-11, 2-6 heading into Wednesday) to Yuma at 7 p.m., Oct. 12.
After the regular season ends, the three-team NJCAA Region 1, Division I Tournament begins Wednesday, Oct. 31, with a semifinal match pitting the ACCAC's second- and third-place D-I teams against each other. The semifinal winner visits the ACCAC's D-I regular-season champion to battle for the region title on Friday, Nov. 2.
The region champion garners a berth into the NJCAA West District Championship on Tuesday, Nov. 6, with the winner qualifying for the NJCAA Division I National Tournament Nov. 15-17 at Hutchinson Sports Arena in Hutchinson, Kansas.
Doug Cook is a reporter for The Daily Courier. Follow him on Twitter at @dougout_dc. Email him at dcook@prescottaz.com or call 928-445-3333, ext. 2039.
More like this story
SUBMIT FEEDBACK
Click Below to: