Antelope Hills Golf Course elicits support from Prescott Council
Asset or liability?

By
Cindy Barks
|
Cindy_Barks
Originally Published: October 10, 2018 9:41 p.m.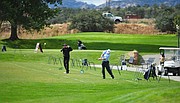 Over the past 18 years, Prescott's municipal golf course has racked up more than $5 million in debt with the city's general fund.
But that debt could go away soon, if the Prescott City Council follows through on the direction it appeared to be heading this week.
On Tuesday, Oct. 9, the council learned from consultants that Antelope Hills Golf Course generated a communitywide economic impact of about $7.3 million in the past fiscal year.
Based on that figure, along with quality-of-life benefits from the 36-hole golf course, council members voiced support for treating Antelope Hills as an asset rather than a liability.
And that could mean absorbing the $5.3 million debt that the golf course has accumulated with the city's general fund since the year 2000.
Budget and Finance Director Mark Woodfill explained that the $5.3 million in debt includes not just the annual deficit in operating costs vs. revenues (currently about $200,000 per year), but also the capital improvements that have been needed over the years, such as mowers, a new effluent pump, and new golf carts.
ENTERPRISE FUND?
Since 2000, the city has kept track of all of those deficits and costs, and has designated the amount as a debt to the city.
Although no vote occurred this week, several council members voiced opposition to the long-term practice of keeping the golf course's finances separate, and adding the operation's annual deficits to the growing debt.
"To continue an ongoing debt that's never going to be repaid is ridiculous," Councilman Phil Goode said.
Other council members emphasized that Antelope Hills brings more to the community than merely golf.
"Antelope Hills is part of the community; Antelope Hills is one of our assets, similar to parks and trails," Councilman Jim Lamerson said.
He and others questioned the city's practice of treating the golf course as an "enterprise fund" — a municipal category that is expected to be self-sustaining and pay for itself through user fees.
"We don't have a parks and trails enterprise fund," Lamerson said, noting that the city charges fees for some of its recreational uses, but does not expect those fees to cover the costs for operating and maintaining the parks and trails.
Woodfill said after the meeting that he expects a measure to be placed on the council's Oct. 23 voting session agenda for a vote on whether the golf course debt should be forgiven by the city.
ECONOMIC IMPACT
Antelope Hills was on this week's study session agenda primarily to provide a report to the council on the "economic impact and benefit analysis" that was completed recently by consultants, the National Golf Foundation.
Recreation Services Director Joe Bayes led off the presentation by pointing out that the analysis was done to "look at the standing of the golf course — what it does for our community."
Ed Getherall, director of consulting services for the foundation, listed a number of Antelope Hills' positive community impacts. For instance, he said, the golf course contributes to Prescott's "brand," and helps to attract new residents to the community.
A survey completed by 1,884 residents showed that 93 percent of respondents had moved to Prescott from another area.
About one-third of those residents said Antelope Hills Golf Course was a consideration in their decision to move to Prescott. And for one out of 10 survey respondents, the municipal golf course was the deciding factor.
In addition, 54 percent of respondents said Antelope Hills was important or very important to Prescott's quality of life.
Included in the $7.3 million in "direct economic impact of Antelope Hills" is the nearly $2 million in job compensation.
The analysis showed that the golf course operations accounted for 82 jobs, with a total compensation of about $1.6 million, as well as another 16 jobs in the hospitality/tourism industry, with a compensation of about $250,000.
The survey responses also included the downside of the golf course, such as its "wasteful" use of city effluent (treated wastewater) for irrigation, and its environmental impact from use of harmful chemicals.
DEFERRED MAINTENANCE
Along with the economic impact, the analysis also included a look the golf course's future needs. Golf Course Architect Forrest Richardson listed a number of projects that he said were needed.
"You do have a lot of deferred maintenance," Richardson said, mentioning the irrigation system on the south course, which "is approaching its life cycle."
Baynes said afterward that the south course irrigation system dates back to 1996, and that replacing it would cost about $1 million.
Councilman Steve Blair suggested that the city should compile a five-year capital-improvement plan for the golf course, similar to its other departments. "It is important to keep it up to date," he said.
More like this story
SUBMIT FEEDBACK
Click Below to: