State releases letter grades for 2017-18 school year
HUSD superintendent notes 'significant movement' at several schools; BMHS at 'high level'
Letter grades for Humboldt Unified School District schools
(two column list for two years 2016-17 and 2017-18):
Coyote Springs Elem: B/B
Granville Elem: B/C
Humboldt Elem: A/B
Lake Valley Elem: C/B
Mountain View Elem: C/B
Liberty Traditional (K-8): A/A
Bradshaw Mountain Middle: C/C
Glassford Hill: C/C
Bradshaw Mountain High: B/B
Prescott Valley Charter Schools
Acorn Montessori: A/A
Arizona Agribusiness and Equine Center: B/A
Canyon View High: A/B
Park View Middle: A/D
Franklin Phonetic: B/B
Prescott Valley Schools: B/under review
Districts received the results of their schools' achievement data in early summer, but the State Board of Education (ASBE) didn't release its letter grades to the public until Friday, Oct. 5.
In the meantime, school officials in the Humboldt Unified School District worked closely with teachers and staff to make sure they were meeting "the individual needs of each individual student," said Dan Streeter, superintendent of Humboldt Unified School District.
The Arizona Department of Education must, by law, offer an annual achievement profile for every public school in the state. It rates the schools on an A through F scale.
According to the ASBE website, the letter grades are based on several factors: individual year-to-year academic growth; proficiency in English language arts, math and science; the proficiency and academic growth of English language learners; indicators that an elementary student is ready for success in high school and that high school students are ready to succeed in a career or higher education; and high school graduation rates.
The State's continual changes and tinkering with the calculations and credits makes it difficult when reviewing data, Streeter said. What the district did determine, however, was where changes were needed at each school, it made those changes, he added.
"We are extremely happy with the significant movement that was made at Mountain View, Lake Valley and Bradshaw Middle. Liberty and Bradshaw Mountain High School continue to perform at high levels," Streeter said.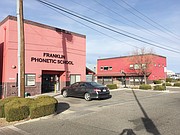 Lake Valley Elementary School earned a B grade this year, compared to C for the 2016-17 school year. Principal Aime Fleming said the entire campus worked to make sure all involved knew each student's strengths and needs.
"We reviewed data from the prior year and used that to dig down and make sure our interventions and extensions were based on their needs," Fleming said. "It's definitely a community effort. It took every staff member — not just teachers — and students and parents to accomplish this."
Bradshaw Mountain High School received a B letter grade this year, same as for the 2016-17 school year.
"If you really drill down in the factors and look at the college and readiness index and student growth, they really did a tremendous job," Streeter said.
Student growth scores count for 20 percent of the letter grade, as do college- and career-readiness measures, and graduation rate. Students' test scores count for 30 percent, and English Language Learners' growth and scores is 10 percent. For K-8 schools, 50 percent is based on student growth, 30 percent on test scores, and 10 percent each for ELL growth and scores, and acceleration and readiness measures.
BMHS Principal Kort Miner said Rod Bueche, director of Federal Programs and School Innovation, sat down with math, English and science teachers, and broke down data and test scores to make sure students made bigger gains.
"What was cool, if you think about it, is freshmen who tested last year are now sophomores. We align that math data to who their current teacher is," Miner said.
This means the student's math teacher this year has information on what areas the student "stunk at." Math strands indicating specific math skills are color-coded. When a student's skill strand from the previous year is red or weak, he or she gets individual help on those specific skills from math teachers during Intervention Wednesdays.
If the pass rate isn't all that great, Miner said, the growth is incredible. That's because of the individual attention given to each student.
"To continue to do this over three or four years, we will see a better pass rate," he said, adding that he can't expect students to achieve pass rates without growth in subject matter.
"The more prepared the elementary students are when they get to the high school, the better our proficiency rate will be. That translates to our graduation rate. It dominoes," Miner said.
Some districts are using test scores from the ACT (American College Testing) rather than the AZMerit tests for high school students, which the state accepts as an alternate test. Correlations between ACT and AZMerit scores has not yet occurred and Miner said Humboldt doesn't feel it is fair to "jump into the test yet when we don't know how the state will grade it."
"We think it's an incredible, viable alternate for our kids to be able to take a college placement test and also satisfy the state by taking the end-of-the-year state assessment. There are too many unknowns right now," he said.
As a district, Miner added, the administration always pushes up the bar for its students and teachers. The growth and improvement in the elementary and middle schools is always good to see, and will reflect on the success of students when they reach high school.
"I would challenge any school district in the state of Arizona to show me a better group of principals and a more dedicated staff than what the Humboldt Unified School District has right now, today," Streeter said.
Schools have until 5 p.m., Oct. 25, to appeal their letter grade based on mitigating factors, including incorrect data.
More like this story
SUBMIT FEEDBACK
Click Below to:
This Week's Circulars
To view money-saving ads...