Oops or Shine On? Phoenix program helps residents recycle better
Stephanie Morse, Cronkite News
Originally Published: October 9, 2018 8:56 p.m.
PHOENIX — Monica Strauss pulls on a pair of plastic gloves every morning to dig through blue recycling bins set out on curbs in parts of the city.
The Phoenix Public Works Department employee is methodical as she approaches each blue bin and sorts through the paper, cardboard boxes, plastic waste and other contents. She jots down some notes and uses her industrial stapler to attach feedback to the bin.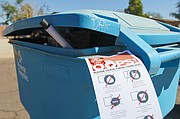 She does the same at each container until nearly all the recycling bins in this neighborhood have green or red tags hanging off the lids. The green tags say "Shine on," the red ones say "Oops" and explains what the homeowner needs to do differently.
The efforts are part of a new recycling program that gives residents individualized feedback.
Many people are overly ambitious when recycling and throw items in their blue bins that actually belong in the green trash bins. This contamination, if severe enough, can mean an entire truckload of recyclables ends up in the landfill.
Phoenix has an average recycling contamination rate of 30 percent, said Jesse Duarte, deputy director of public works for the city. But he said Phoenix is trying to reduce the rate to at least below 20 percent with the new education program.
"We're educating our communities to know what they can and cannot recycle," Duarte said. "It costs everyone more money when we have to stop the machines to get rid of contamination."
Unclean food containers, lawn clippings and greasy pizza boxes can't be recycled, yet people regularly put these items in their recycling bins.
Other non-recyclables, such as plastic bags and wrappings, can cause mechanical malfunctions that slow down the sorting process.
"The plastic bags get caught and can even break the machine," said Colin Tetreault, chair of the city's Environmental Quality and Sustainability Commission. "Depending on the contamination, they have to shut the entire thing down to unclog the machine."
A truck will pick up residents' recycling that has an "Oops" tag on the bin for two weeks. After that, the city won't pick up the contaminated recycling, and city employees will roll the bin back up to the house.
City employees check a neighborhood's bins once a week for five weeks.
More like this story
SUBMIT FEEDBACK
Click Below to: