Magician Eric Giliam to perform at library
New illusions come from thinking outside the box, Giliam says

Originally Published: October 9, 2018 8:43 p.m.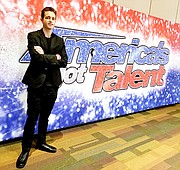 It's no illusion, magician Eric Giliam is coming to the Chino Valley Public Library for a couple early morning performances Wednesday, Oct. 10.
Giliam, who has performed at the Elks Theatre and Performing Arts Center on several occasions and is set to return in November, said his inspiration was, is and always will be David Copperfield. Giliam has said in the past a Copperfield performance was his introductory magic show and was what led to him becoming a magician.
His free 9:30 and 10:45 a.m. shows at the Chino Valley Public Library, 1020 W. Palomino Road, are all-ages performances with lots of fun and cool magic and illusions, Giliam said.
"I bring up a lot of volunteers throughout the show to help with different magic and illusions," he said, stating there will be "really cool music and an overall good time."
Giliam said that when he develops a new illusion, it comes from thinking outside the box and going over a bunch of different ideas.
Anything can spark an idea for a new illusion, such as listening to music, which is how he gets new music for the show, and watching movies, he said.
Once he debuts a new illusion, the audience will give him good feedback to let him know if he needs to change or tweak anything, Giliam said.
"It's always a work in progress," he said.
One illusion that Giliam said he enjoys performing is a piece where he swallows a ball whole, takes a cloth and obscures himself with it. When he brings it back down, the top half of his body is gone and the audience sees a bare waist with the ball on top of the waist.
Being out in front of the audience and giving people an overall good time and fun for an hour as well as performing things they have never seen is what keeps him going, Giliam said.
"That's the main goal, is to have fun and just interact with people," he said. "Without the audience, there'd be no show."
For more information about Giliam, visit www.magiceric.com.
More like this story
SUBMIT FEEDBACK
Click Below to: