Grace Baptist Church celebrating 40 years
Saturday event a way to thank the community, senior pastor says

Originally Published: October 9, 2018 8:49 p.m.
Grace Baptist Church is holding a celebration this weekend in honor of its 40th anniversary, and the whole community is invited.
Celebrations often are meant just for members within the group that is celebrating, but earlier this year one of his associates had the idea of doing something out in the community, said Senior Pastor Wayne Ballard. As such, from noon to 4 p.m. Saturday, Oct. 13, the church is putting together a free celebration at Memory Park with bounce houses, free food, music and a cornucopia of carnival games, Ballard said.
"Our intent and our goal in it … is this: We want to say to the community thanks for letting us be part of the community for 40 years," he said. "It's about us saying to the community 'we're so grateful we can be a part of this town and this place, and we're just so glad that we can be here.' "
Ballard said he wants the whole community to come, have some fun and celebrate.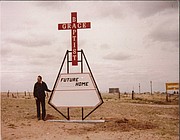 While the church has something special planned for its service on Sunday, Oct. 28, this event is not about anything other than getting the community together to celebrate, Ballard said.
The church has grown quite a bit since it started in 1978, he said. At first it was a little Bible study that formed a church after a group in Prescott saw a need for one in Chino Valley, Ballard said. These days, there's between 300 and 350 people on any given Sunday morning, he said.
At the same time, Grace Baptist Church is looking forward to the next few years, Ballard said.
"Part of that process is we're actually in a building process right now, raising money and getting all of our final architectural drawings and so on for the next step," he said.
For more information about Grace Baptist Church's 40th anniversary celebration, call 928-636-2949.
More like this story
SUBMIT FEEDBACK
Click Below to:
This Week's Circulars
To view money-saving ads...