Why are the flags at half-staff today, Oct. 7, 2018
Originally Published: October 7, 2018 4:39 a.m.
Updated as of Sunday, October 7, 2018 3:19 PM
The United States Congress created the National Fallen Firefighters Foundation (NFFF) to lead a nationwide effort to remember America's fallen firefighters. Since 1992, the tax-exempt, nonprofit Foundation has developed and expanded programs to honor our fallen fire heroes and assist their families and coworkers.
103 Fallen Firefighters will be honored during the 37th National Fallen Firefighters Memorial Service on Sunday, October 7, 2018. The U.S. Fire Service will pay tribute to the lives of 80 firefighters who died in the line of duty in 2017 and 23 firefighters who died in previous years.
Arizona Firefighter
The U.S. Fire Service will honor a firefighter, who died in the line of duty, from Arizona during the memorial service on Sunday.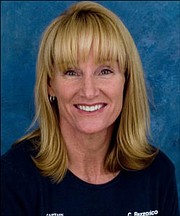 Captain Crystal Dawn Rezzonico, age 56, of the Phoenix Fire Department, died on February 18, 2017, after suffering critical injuries when the apparatus she was riding in was struck while responding to a structure fire on August 10, 2009. Her name will be added to the National Fallen Firefighters Memorial on the Academy grounds.
The national tribute is sponsored by the NFFF and the Department of Homeland Security's U.S. Fire Administration.
More than 5,000 people, including families, friends, members of Congress, Administration officials and firefighters are expected to attend on Sunday. Firefighter honor guards and pipe & drum units from across the U.S. will participate in this national remembrance.
In accordance to Public Law 107-51, the American flag should be lowered to half-staff on Sunday, October 7 sunrise to sunset in observance of National Fallen Firefighters Memorial Service.
Memorial Service Broadcast
Sunday, October 7, 2018 9:30 a.m. – 12:00 p.m. EDT
(Streaming begins at 9:30 a.m.; service begins at 10 a.m. Eastern Daylight Time)
For a complete list of fallen firefighters being honored, to watch the memorial service broadcast live or to learn more about the NFFF, visit https://www.firehero.org.
More like this story
SUBMIT FEEDBACK
Click Below to:
This Week's Circulars
To view money-saving ads...