Prescott Valley breast cancer survivor reaches out to other through "The Pink Project" thrift shop
Shannon Fitzgerald
Originally Published: October 6, 2018 7:04 p.m.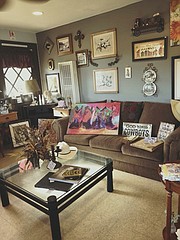 Shannon Fitzgerald in Prescott Valley is a now 38-year-old mother of four teen and young adult sons who two-and-a-half years ago was diagnosed with Stage 1 breast cancer, leading to an aggressive blend of treatment that entailed surgery, chemotherapy and radiation.
She subsequently learned she is a carrier of the BRCA 1 gene that puts her at a significant risk for a repeat bout of cancer. At this time, she is talking with doctors about undergoing a double mastectomy in the not-too-distant future as a means of warding off that daunting possibility.
With her treatments over, and her energy restored, Fitzgerald is feeling healthy now. She is tapping into her cancer journey as a motivator to other women to get their checkups and annual mammograms.
She, too, managed to take her own misfortunes, including losing her position as a Sam's Club supervisor with the closing of the local store in January, to build her "dream" enterprise oriented toward giving back to those forced to hear the dreaded diagnosis: breast cancer. On June 30, Fitzgerald opened a thrift shop in Humboldt titled, "The Pink Project." Proceeds from the store go to help people going through cancer treatments, she said.
Fitzgerald knows the financial hardship that compounds the fear that comes with this diagnosis. She and her family were bolstered by about $4,000 in donations from the community to assist them while Fitzgerald was unable to work while recuperating from her surgery and treatments.
Through the store, Fitzgerald said they are able to assist cancer patients with such things as groceries, utility bills, gas, and other such essential expenses.
From the generosity poured on her and her family, Fitzgerald said she knew once she got healthy again she wanted to return the favor.
"With the help and support from my friends and family I was able to make it happen," Fitzgerald said.
In the month of October, Fitzgerald said the shop that is open 10 a.m. to 5:30 p.m. Tuesday through Saturday and 11 a.m. to 5 p .m. on Sundays will be putting together "Feel Good Gift Bags" for women going through treatment. Donations are appreciated and can be dropped off during business hours. At this time, the shop is not accepting clothing, shoes or appliances.
Other local events that will benefit the store as part of this month of awareness, education and assistance to breast cancer survivors:
• Smoke-N-Thingz in Prescott Valley is sponsoring a raffle with $5 of every ticket to be donated to the store through the month of October.
• Tony's Too is sponsoring an all-day event on Oct. 20 with poker tournament, drink specials, silent auction and a live band. Again the store will be a beneficiary of the events.
• Color Street Nails is hosting a month-long fundraiser to assist the project.
For more information, visit Facebook @thepinkprojecthriftstore or visit GoFundMe:the-pink-project-thrift-store.
More like this story
SUBMIT FEEDBACK
Click Below to:
This Week's Circulars
To view money-saving ads...