Deborah Portzer gives back to cancer patients
Originally Published: October 6, 2018 9:07 p.m.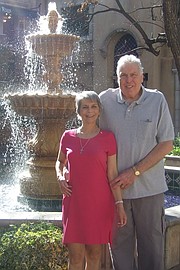 On Oct. 5, Deborah Portzer celebrated an anniversary — a celebration of survival.
Two years ago on that day, the now 64-year-old Prescott resident was diagnosed with Stage 4 metastatic breast cancer that had spread to her leg and hip in 2016.
As of April this year, Portzer's cancer scan "shows no trace of cancer."
"I'm doing great, thanks and praise be to God," said Portzer, who is now walking without a cane or any medical device.
Her current prognosis "only brings joyful tears to my eyes in thanksgiving and praise to God, my healer." Two years ago in October, Portzer was in the Scottsdale Shea Hospital for 13 days beginning her "long journey" to walk again.
"All the multiple doctor appointments, tests, labs, scans and physical therapy are currently down to an oncology appointment every three months, a scan every six months and a daily chemo pill. I'm blessed for this precious gift of life to reach out and give hope."
She said she is so "happy and thankful" for all those who have prayed for her and her husband, Jim, and for "all the wonderful progress I've made one step at a time together with Jim at my side."
"The basic necessities that we take for granted, and those little special things in life that others do with kindness and love is big in my heart. It lifts my soul and helps me to continue to walk happily with hope. We celebrated our '20th' wedding anniversary in June and couldn't be happier!"
With exuberant delight, Portzer declared she is now able to walk around the courthouse plaza and go up and down the courthouse stairs.
"My doctors are amazed. My oncologist says I'm in remission, but I have no doubt God healed me," she said.
The doctor informed her she will have to take a chemotherapy-type pill for the rest of her life. Portzer's response: "Even when I turn 90!"
As part of Portzer's cancer journey, and healing, she was donated space at the Cancer Centers of Northern Arizona Healthcare in Sedona for "pick-me-up" gifts intended to cheer and give hope to fellow breast cancer patients. To this day, she continues to supply what was named "Deborah's Corner" with small gifts, and has a friend, Dona Speights, who has joined her in supplying an assortment of handmade goods specific to the needs of cancer patients — everything from tube scarves to cover a woman's head who is undergoing chemotherapy to small pillows that can go over a catheter port.
When I reflect back on "my cross," her cancer diagnosis, Portzer said she sees a "beautiful journey."
"It's almost unbelievable what I went through, but amazing how God works and heals our body, mind and spirit," Portzer said. "I'm happy, still taking gifts to Deborah's Corner, and giving HOPE."
Deborah Portzer's friend, Dona Speights, has never been diagnosed with cancer. So Portzer thinks it is all the more amazing that Dona has donated her time and talents to assisting those who get such a diagnosis.
A serendipitous meeting in the Fry's Market a year ago that prompted Portzer to share her cancer journey, and the launch of "Deborah's Corner," precipitated an offer from Speights, to begin making colorful fleece tube scarves for the patients, Portzer wrote.
"Dona is a great seamstress (and member of the Mountain Top Quilters Guild) and her creative sewing has brought a lot of smiles to cancer patients, and a big smile to my heart," Portzer wrote. "I'm forever grateful of her friendship and beautiful gifts of tube scarves, fleece caps, under arm pillows after breast surgery, and port-a-cath pillows all made with LOVE.
"According to the nurses at AZ Oncology in Sedona 'they're a hit and perfect gift.' My prayer and desire of my heart were answered."
Even though Speights is not a cancer patient, she wants to offer her touch of healing to those who do, Portzer wrote.
"Isn't LOVE the key to happiness? When we give LOVE, we receive greater LOVE. It's a win-win situation," she concluded.
More like this story
SUBMIT FEEDBACK
Click Below to: