Days Past: A Taphophile's Reverie - Yavapai County cemetery histories
Parker Anderson, Special to the Courier
Originally Published: October 6, 2018 6:43 p.m.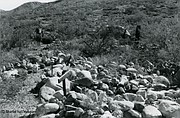 There is a phenomenon that happens every October as people come to cemeteries to honor their dead ancestors — taphophiles are out in force.
What is a taphophile? A taphophile is someone who is interested in visiting old cemeteries and viewing gravestones. Taphophiles do not visit cemeteries to do mischief; their only desire is to explore, learn, and experience the allure of the lore, art, history, and peaceful beauty of cemeteries.
When investigating an area's historic sites and monuments, cemeteries are often overlooked. Many people are uncomfortable visiting cemeteries, as they remind us of our own mortality. And, in many cultures, it is forbidden to visit burial grounds, unless you are burying someone. However, there is a great deal of history in cemeteries, as they are the final resting places of those individuals who came before us, including historically significant people.

Yavapai County has approximately 150 cemeteries and burial sites, including places you might not know. There are cemeteries in active communities such as Jerome and Cherry, and in old abandoned mining towns such as Octave and Humbug. There is even a small cemetery in the shadow of Cathedral Rock in Sedona.
Prescott has several graveyards, starting with Citizens Cemetery. This is Prescott's oldest graveyard, as the first burial took place in 1864, the same year Prescott was founded. Located on Sheldon Street near the entrance to Yavapai College, this cemetery at the time of the first burial was considered outside of town. Burials in Citizens ceased in 1933 when it reached full capacity. Afterwards, the graveyard fell into neglect, as many cemeteries sadly do. Even Sharlot Hall herself called for restoration of this historic site, but it remained in an increasing state of decay and vandalism for many years. In 1994, Pat Atchison, a concerned community member and genealogist, formed the Yavapai Cemetery Association (YCA) for the purpose of restoring the cemetery. The YCA kept up its fine work until early 2018, when lack of new volunteers and other circumstances forced them to disband. All the YCA's research and other materials were deposited with the Sharlot Hall Museum.
Mountain View Cemetery on Willow Creek Road is vastly underrated as a historic site. It opened in 1911 as an alternative to Citizens Cemetery, which was already starting to deteriorate. In fact, after Mountain View opened, a handful of families opted to exhume their loved ones from Citizens and rebury them in Mountain View. Most notably, Joe Mayer, for whom the town of Mayer is named, was reburied. Others that are interred at Mountain View Cemetery include a U.S. Senator, an Arizona Governor, two Territorial Congressional delegates, at least two film actors, a Medal of Honor recipient, and countless pioneer family members. In addition, the victim in the tragic, unsolved 1960 "Little Miss Nobody" case is buried there, as well as Harrison Yarnell, for whom the town of Yarnell is named.

For "wild west" aficionados, there are two Billy the Kid imposters buried in the Arizona Pioneer's Home Cemetery. It is also almost certain that all but one of Prescott's legal hangings were unceremoniously buried in unmarked graves in Citizens Cemetery.
There are mysteries around some Yavapai County burial sites. While it has been proven the ghost town of Stanton had a cemetery, all traces of it seem to have vanished and no one is completely certain of its location.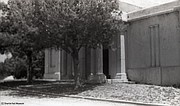 In the Verde Valley, the famed lawman Jim Roberts has markers in both the Clarkdale Valley View Cemetery, and the lower Jerome Cemetery. No one seems to have any explanation for this discrepancy, nor is anyone able to say absolutely in which grave Roberts is truly interred. Likewise, Sharlot Hall's brother, Edward "Ted" Hall, has a marker in the Hall family plot at the Arizona Pioneer's Home Cemetery in Prescott, yet current data indicates he was buried in Tucson.
Future generations will not have cemeteries from our era as historic sites. During the past twenty years alone, cremation has become the most common means of disposing of human remains. This is undoubtedly due to the skyrocketing costs of traditional burials, and it is rapidly making cemeteries obsolete throughout America. As a result, much history will be more difficult to find for future generations.
Sharlot Hall Museum will be hosting a free lecture on "A Taphophile's Reverie: History of Yavapai County Cemeteries" by Parker Anderson at 2p.m. Saturday, Oct. 13, 2018, in the West Gallery of Sharlot Hall Museum's Lawler Exhibit Center.
"Days Past" is a collaborative project of the Sharlot Hall Museum and the Prescott Corral of Westerners International (www.prescottcorral.org). This and other Days Past articles are also available at https://www.sharlot.org/articles/days-past-articles.l. The public is encouraged to submit proposed articles and inquiries to dayspast@sharlot.org. Please contact SHM Library & Archives reference desk at 928-445-3122 Ext. 2, or via email at archivesrequest@sharlot.org for information or assistance with photo requests.
More like this story
SUBMIT FEEDBACK
Click Below to:
This Week's Circulars
To view money-saving ads...