Prescott football upsets rival Bradshaw, knocking Bears from ranks of the unbeaten
Prep Football
By
Doug Cook
|
dougout_dc
Originally Published: October 5, 2018 11:59 p.m.
PRESCOTT VALLEY — Prescott's football team denied Bradshaw Mountain a chance at program history on Friday night, Oct. 5, grinding out a 26-21 victory against its chief rival to end the Bears' seven-game winning streak.
Bradshaw Mountain matched its 1986 team's 7-0 start, but it could not set a new school record thanks to a Badgers squad that outscored the Bears 6-0 in a grueling second half.
"We played as a team [Friday]," Prescott quarterback Austin Clark said. "Our defense stepped up, our offense stepped up. For the last couple weeks, we've been a primarily running team, and we demonstrated [Friday] that we can throw the football.
Photo Gallery
Bradshaw Mountain Vs Prescott Football 100518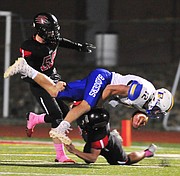 "This is just another game, but it means a lot because it's our crosstown rival. We're really excited that we won this one."
The AIA 4A No. 2-ranked Bears now stand at 7-1 overall and 3-1 in the Grand Canyon region (second place) with two games left on the regular-season schedule.
Meanwhile, No. 17 Prescott is riding high, improving to 5-2 overall and 3-0 in region with three contests to go. The Badgers, who lead the region, went from being on the state playoff bubble to right in the thick of the race to qualify for the 16-team tournament. Whichever team wins the region automatically qualifies for state.
"They're a very good football team," Bears coach Chuck Moller said of Prescott. "They mirror us in a lot of ways. They have a very strong line. They've been successful running the ball. [Friday] they passed the ball a little bit better."
This is the second consecutive season that Prescott has beaten Bradshaw Mountain in the series' 26-year history, and the Badgers get to hold onto the Rivalry Cup Trophy for at least another year. In 2017, the Badgers blistered the Bears, 44-27, at Bill Shepard Field.
"They're extremely well-coached and they're a really, really physical and very good team," Prescott coach Cody Collett said of Bradshaw Mountain. "We took advantage of some things we thought might be there in the passing game early, and they did a good job adjusting to that. It was just a great effort and a great victory. One of the best I've ever been a part of."
Clark, who last week injured his toe and missed the second half of Prescott's 28-16 win over Coconino, started and didn't skip a beat. In the first half, Clark threw TD passes of 29 yards and 3 yards, and he ran for a 2-yard TD.
Prescott tight end Aaron Greene caught the 29-yard TD. He gave the running game a lot of credit, though.
"Grinding the football down their throats, actually, was a really big help," Greene said. "Austin came out hot, and helped our team so much running the ball."
But it was Prescott place kicker Bryce Peters who stole the show, drilling field goals of 37 yards and 31 yards in the second half to provide the margin of victory.
"I just had confidence in myself — anywhere from the 30-yard line and up," Peters said. "I knew I could make it. And if my team gave me a chance, I knew I could help them out."
And yet Bradshaw Mountain still had a chance to win the game late. In the final minute of regulation, the Bears reached Prescott's 32-yard line, but they couldn't convert on fourth down and the Badgers ran out the clock.
The Badgers had grabbed a 20-7 lead 2 minutes into the second quarter before Bradshaw Mountain rallied for 14 unanswered points to carry a narrow 21-20 advantage into halftime.
Bradshaw Mountain sophomore QB Josh Grant earned his fourth straight start in place of regular starter Austin Gonzales, who had been on suspension. However, Gonzales entered the game with 9 minutes left in the second quarter when Grant suffered a minor injury. Gonzales provided a spark, but Prescott's blitzing pressure defense won the day in the second half.
Bears tailback Anthony Mata helped lead the hosts, running for a 26-yard TD in the first quarter. Gonzales threw one TD pass in the second quarter, a 26-yard strike to Alex Cyr, and he rushed for a 3-yard TD that handed Bradshaw Mountain its 21-20 lead.
"We should've scored more — we didn't," Moller said. "We had opportunities. We have to regroup. All our goals are in front of us, except one, and that's an undefeated season. This team's going to be tough. We're going to come out fighting. We're not going to lay it down."
UP NEXT
Bradshaw Mountain travels to Cottonwood on Friday, Oct. 12, to battle No. 16 Mingus (5-2, 2-1). Kickoff is at 7 p.m.
Prescott visits struggling region foe Mohave (2-5, 0-3) at 7 p.m. Oct. 12 in Bullhead City.
NOTES
Prescott leads the series, 20-6. ... Prescott wins by an average score of 27-18. (700 total points for Prescott; 472 total points for Bradshaw Mountain) ... 9 of the 26 games have been decided by a TD or less. ... The highest scoring game occurred in 2005 when PHS won, 42-31. ... The lowest scoring game occurred in 2002 when PHS won, 13-6. ... Coaching records include: PHS – Bill Gahn (3-0); Bill White (1-0); Lou Beneitone (10-4); Steve Moran (1-0); Cody Collett (4-1); Michael Gilpin (1-1). BM – Steve Moran (1-4); John Rodriguez (0-3); Mike McMahon (0-4); Chuck Apap (3-4); Jared Woodruff (0-1); David Moran (2-1); Chuck Moller (0-2).
Doug Cook is a reporter for The Daily Courier. Follow him on Twitter at @dougout_dc. Email him at dcook@prescottaz.com or call 928-445-3333, ext. 2039.
More like this story
SUBMIT FEEDBACK
Click Below to: