Museum celebrates 'Archives Month' by preserving history in perpetuity
Originally Published: October 5, 2018 7:20 p.m.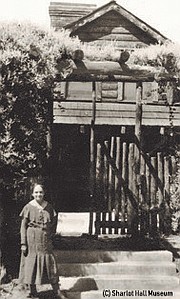 Making archival "history" accessible for future generations was a passion for Miss Sharlot Hall in founding the Museum that bears her name. Ninety years later, the Sharlot Hall Museum continues to engage in her vision by celebrating October as "American Archives Month."
In a letter dated July 1926, Sharlot Hall wrote to Walter Douglas, general manager of the Phelps-Dodge mining company, one of the more influential community leaders in soliciting support for her vision:
"I have long wished to place my collection of historic and Indian things in the old house," she wrote referring to the Governor's Mansion log cabin building, "and to make of it a very unique local museum or rather a center of historic interest...of Yavapai County past, present and future."
It would take another two years before Sharlot would realize her dream. On June 11, 1928, she welcomed her first guests to the "Gubernatorial Mansion Museum" that was situated a few blocks west of the downtown Prescott plaza. Almost two decades earlier, a young Sharlot had been appointed Territorial Historian by Governor Richard Sloan, the first woman to hold public office in the territory which was undergoing many changes in seeking admission to the Union.

During her term as historian, she collected many pioneer artifacts and Native American relics. She wrote several letters and articles regarding territorial history and received numerous letters from people and families across Arizona regarding the history of their family members and ancestors.
When her term was over (with statehood in 1912), Sharlot did not stop collecting materials – especially after she was able to turn the old governor's house into a museum in June, 1928.
In fact, over the next decade and during the Great Depression, Sharlot devoted much of her attention towards acquiring artifacts, manuscripts, letters, photographs, maps, books, and various other items from pioneer families.
She recognized the need to save Arizona's precious past. The territory had been founded in 1863, and the old Governor's Mansion had been built the following year. As early settlers died and family members moved, their possessions were lost along with their stories.
Widespread looting of the state's spectacular Indian heritage occurred to supply the Eastern U.S. market with "relics." To save what she could, Sharlot began to collect both Native American and territorial material.
Amid the Depression, Sharlot recognized that her archives and collections needed a repository, as these could no longer be contained in the old governor's home.
She marshaled local support and arranged with the Public Works Administration to create the rock building located right next to the Mansion. The "house of a thousand hands" was built to house much of her collection and to serve as her residence and office.
When Sharlot died in April 1943, she bequeathed all her collected materials to the Historical Society of Prescott, which was the governing body for the Museum that was ultimately renamed in her honor.
For the past 90 years, collecting of various materials from Yavapai County people and communities of West-Central Arizona has continued at Sharlot Hall Museum.

As the Museum evolved into an historical and heritage institution, directors, educators, anthropologists, curators, archivists and librarians began organizing and arranging the Museum's holdings.
That process continues unabated says Brenda Taylor, librarian-archivist with the Museum since 2011. "It's important that we continue to ensure the identification, preservation and use of these historical records," she adds.
Sharlot's collections formed the basis of the Museum's Library and Archives, which provides research opportunities through its vast collections of rare books, original documents, photographs, maps and oral histories.
Today and in celebrating 90 years, the Museum continues its founder's mission to acquire, preserve, and interpret its
collections and archives for the public.
In recognizing October as "American Archives Month," visitors are encouraged to check out the Sharlot Hall Museum Library and Archives and discover the "history" in holds.

The archives contain thousands of books, newspapers, serials, hundreds of rare books and a few pioneer family libraries, as well as personal and family manuscripts, photographic collections, genealogical records and more – all being preserved for perpetuity.
The Archives are located in the Granite Creek Center across from the Museum at 115 S. McCormick Street, and are open noon to 4 p.m. Wednesday to Friday, and from 10 a.m. to 2 p.m. Saturdays.
Volunteers and staff are available to assist patrons and researchers using a variety of resources and archival materials as they investigate and study the various topics relating to Prescott and its surrounding communities, the Yavapai County area and the Arizona Central Highlands region.
Information and photos provided by Sharlot Hall Museum.
More like this story
SUBMIT FEEDBACK
Click Below to: