Prescott Area Artists Tour is this weekend
Originally Published: October 4, 2018 9:32 p.m.
Studio Tour sees 80 artists
Art is everywhere this weekend ­— literally, with 80 artists involved in this year's Prescott Area Artists Studio Tour.
Held from 10 a.m. to 4 p.m. Friday through Sunday, Oct. 5-7, all those artists can be visited at 51 private studios and three art centers.
The participating art centers are Mountain Artists Guild, 228 N. Alarcon St.; Prescott Center for the Arts, 208 N. Marina St.; and 'Tis Annex Art Education Building, 235 N. Marina St.
For more information about the Prescott Area Artists Studio Tour, including maps and a full list of participating artists, visit www.prescottstudiotour.com.
— Jason Wheeler
Attention Art Lovers! The 11th annual Prescott Area Artists Tour will be held this year Friday through Sunday, Oct. 5-7, from 10 a.m. to 4 p.m. each day. Each year more and more and more talented artists join in the event, displaying their art — which includes everything from paintings, jewelry making, pottery, woodworking and much more.
Following are three artists from the Chino Valley, Paulden and Prescott areas.
• Therese Stonehart of Paulden has been painting since she was a child, when she would pick up rocks and paint them, and feels she got her artistic ability from her father.
"I majored in art in college and then I went to Banff School of Fine Arts in Canada," Stonehart said.
Using acrylic paints, she creates extremely realistic scenes of Southwestern animal life on sandstone.
"I paint fine art pieces, coasters, stone housing tiles, of Indians, pottery, pueblos, and wildlife, and I also paint wall murals for inside or outside in any subject my clients might want," she explained.
"When I moved here from Ohio, I fell in love with the Southwestern scenery. Painting is a real outlet for me, because I love being in nature and incorporating it into my paintings," Stonehart said.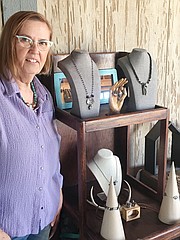 "The amazing beauty of Arizona and the whole Southwest is my favorite source of inspiration."
Stonehart is Studio 31 on the Artist's Tour.
• Artist Kellogg Patton of Chino Valley is a new artist in the tour, although she has been painting since 2006.
"I started seriously painting while in occupational therapy in Prescott, which helped release 45 years of emotional stress. Since then I have been painting abstract and 3-D paintings.
"Because I have essential tremors in my left hand, and as I am left-handed, I just put paint on the brush and put it to the canvas, and let it go. I have created squiggles on the canvas that other people can't do," Patton said.
"All my 3-D paintings are lines and lots of different colors. I have done special 3-D glasses that I have people put on to view my paintings and then certain colors will come forward, and others will recede," Patton said.
Patton derives a lot of satisfaction from creating her art pieces, and is very excited bout her first experience in the Artist's Tour. She is Studio 23 in the tour.
• Metalsmith Deborah Ellen of Chino Valley has been interested in making jewelry since she was in high school.
"I went to Humbolt State University to become a metalsmith, but I just made jewelry occasionally for family and friends until I retired, and now I do it full time," she stated.
Ellen shared that she uses something called precious metal clay, which is a binder with recycled silver. "I form a piece, then it is fired and the binder burns off so I have a piece of metal to work with. From there I add beads, stones, wire, and other components to make my rings, necklaces, bracelets and earrings," she said.
Ellen is very creative with her jewelry pieces using things from nature.
"I have taken a skeleton of a cicada and brushed about 100 layers of the clay compound on it, then fired it and when it's finished, I have a silver cicada. I also make necklaces and earrings like this from paper wasp nests," she smiled.
"I love expressing my creativity, and since this is my first time on the tour, I hope many people will come to check out the unique artists in Chino Valley."
Deborah Ellen is Studio 30 on the tour.
By Diane DeHamer, for Prescott News Network.
More like this story
SUBMIT FEEDBACK
Click Below to:
This Week's Circulars
To view money-saving ads...