Folk music festival celebrates 40 years
Originally Published: October 4, 2018 3:54 p.m.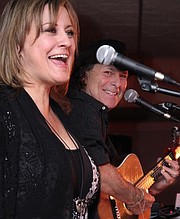 Featured groups at this year's Folk Music Festival run the gamut of musicality, ranging from bluegrass and folk rock, to Celtic and Western and hillbillyblues ... a cornucopia of styles reflecting the fall season.
Over 25 new or long-time-gone groups will be enlivening the festival stages this year, offering a broad range of tunes. With such acts as The New Crystal Minstrels with classic country and folk, Masato Tachi working wonders on a ukelele, MacDougal Street West offering a Peter, Paul, and Mary experience, and Eddy Roswell examining the human condition through music, there's much to see and hear.
A returning group is the Cimarron Sidekicks, an ensemble of four musicians from the Phoenix area that pay, homage to the songs of the silver screen — particularly ones centered around the West.
JC & Laney are perennial favorites at the festival with their high-energy style. They first started performing together in 2009 when, as strangers sitting on bar stools at the Birdcage Saloon in Prescott, they began singing "Bell Bottom Blues." Immediately hired by the bartender, they've become known for their harmonies and impromptu banter with the audience.
Eric Ramsey, a solo artist and musician from Prescott playing a variety of styles from delicate fingerpicking to raucous blues, reminices about his first time at the festival many years ago: "I just recently decided to try being a full-time musicians, had never performed at a Folk Festival before, and frankly was scared to death. Everyone was so supportive ... As a result I've made many wonderful friends in the folk community, and these I cherish." He will also perform alongside Terry Berrett as part of the duo Troublemakers.
The High Strung Band enjoys performing old-time, folk, and mountain music. Long-time performer Steve Speisman offers a wide variety of musical genres, from traditional top 40 to contemporary folk — sometimes solo, sometimes with his daughter and wife, always with powerful lyrics and "soul-awakening" music.

The Robby Roberson Band blends acoustic urban rhythm and grooves, whereas the Hudson Harmony Band, consisting of six performers ranging from age 6 to Mom (Cindy) and Dad (Kevin), easily transition, from toe-tappin' bluegrass to hand-clappin' praise and worship, with an infusion of lively Cajun.
Grown-ups and kids alike are invited to stop in at one of the many workshops being hosted both days at the festival, led by the musicians themselves.
Information provided by Sharlot Hall Museum.
More like this story
SUBMIT FEEDBACK
Click Below to: