Folk Music Festival: Celebrate folk music at Sharlot Hall this weekend

Originally Published: October 4, 2018 10:18 p.m.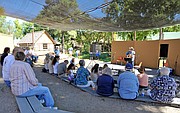 Sharlot Hall Museum's 40th annual Folk Music Festival — Arizona's longest running folk music event — is set to be in tune for this weekend.
More than 200 musicians, including more than 25 new artists, are set to perform all kinds of folk music from Celtic jigs to contemporary ballads at the festival, according to a news release from Sharlot Hall Media and Marketing Manager Ken Leja.
Running from 10 a.m. to 4 p.m. Saturday and Sunday, Oct. 6-7, at Sharlot Hall Museum, musicians will be jamming on four venues across the museum grounds and with each other.
Returning this year are popular acts such as Danny Romero, the Hudson Harmony Band, J.C. and Laney, Greg LaCosse and the Sand Fleas. Additionally, Patricia Silverberg and Patty Arnold are expected to showcase their award-wining compositions, and husband-wife duo of Carter Junction will merge Celtic with Western.
"When Sharlot Hall opened her museum in the 'Old Governor's Mansion' back in 1928, little did she realize that her dream of preserving the heritage of Arizona would include music and song as key contributors," Leja stated in the release. "The genre of music that will be performed at the Folk Music Festival reflects the many decades of time, first begun as a simple community event back in 1978 to celebrate the golden anniversary of the museum's opening."
Over those next 40 years, the festival has grown from featuring a handful of local musicians to an annual gathering, and even homecoming, for vocalists and ensemble members from all around Arizona and throughout the Southwest.
There will also be workshops conducted by the performers throughout both days touching on a variety of musical topics, including songwriting, dulcimer, ukulele, songwriting and slide and fingerstyle guitar. New this year is the Childrens' Music Box. (See related story.)
"Enjoy the flash of sunlight on an acoustic guitar, the haunting notes of fiddles, flutes and harmonizing voices sharing the distinct Americana styles of folk music — all mixing abundant youth discovering percussion xylophone, folk-style string sounding boards, rain sticks and hand-made instruments in the new addition to the Festival," the release states.
Admission to the festival is $10 for the day, or $15 for a two-day pass, $8 for museum members, and free for youth 17 and younger.
For more information, contact the Sharlot Hall Museuem at 928-445-3122 ext. 0 or visit www.sharlot.org/folk-music-festival.

More like this story
SUBMIT FEEDBACK
Click Below to: