Air show to recreate Ernest A. Love dogfight on Saturday
Originally Published: October 4, 2018 9:48 p.m.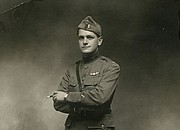 Look to the skies this weekend at Prescott Regional Airport, Ernest A. Love Field as the City of Prescott and Embry-Riddle Aeronautical University put on the Wings Out West Air Show.
This year's event features a tech fair, regional fly-in, food vendors and concessions. However, the biggest thing happening this year is — in conjunction with all the Ernest A. Love Day activities going on in town — a special performance reenacting Ernest A. Love's combat fight, organizer Kristi Miller said.
"We're really excited," Miller said. "It's going to be a really great event this year."
The reenactment will be performed by pilots Gary Rower and The Immortal Red Baron and will see real dogfighting maneuvers, propane machine guns, special theme music and sound effects. Love is considered one of Prescott's original hometown heroes and was shot down over France during World War I. This year marks the 100th anniversary of his death.
The headlining performer for this year's show is Matt Chapman, winner of the International Aerobatic Club Championships in 1994, the Fond du Lac Cup in 1995 and one of five slots on the U.S. Unlimited Men's Aerobatic Team in 1996 and 1998. This is Chapman's second consecutive year headlining the show.
Other performers for this year's show are Bill Stein, Rob Holland, Steven Bennet, Cindy Irish, and Embry-Riddle Aeronautical University's 12-time national champions, The Golden Eagles Flight Team.
The event is from 9 a.m. to 3 p.m. Saturday, Oct. 6. The aerial performances go from 10 a.m. to noon.
Quite a bit of coordination has to happen in order for the Wings Out West Air Show to take place and this is the second year the City of Prescott has partnered with Embry-Riddle, Miller said.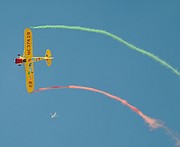 "Every year, it keeps getting a little bit better as we get more performers and things to see throughout it," she said.
Along with the aerial performances, the show has static displays on the Embry-Riddle Flight Line as well as some vintage warbirds and the SkyWest aircraft, Miller said. People will be able to see and tour one of the actual planes they would be flying on when traveling out of the Prescott Airport, she said. A military presence is planned too.
Prescott Regional Airport, Ernest A. Love Field is located at 6546 Crystal Lane. Attendees should use the main entrance off of Highway 89, there will be signage and personnel directing traffic to designated parking areas.
For more information about the Wings Out West Airshow, visit www.prcairport.com/wings-out-west-air-show.
More like this story
SUBMIT FEEDBACK
Click Below to: