What to do with Superfund site? EPA seeking community input before cleanup
Dewey-Humboldt council, the Environmental Protection Agency and a consultant company are working together to plan for what happens to the Superfund site at the Iron King Mine and the Humboldt Smelter after it is cleaned up.
In what feels like a backwards cart-before-the-horse action, Jeff Dhont, EPA Remedial Project manager, explained to the council Tuesday, Sept. 25, and again to Mayor Terry Noland and Town Manager Tom Wilson on Wednesday morning, Sept. 26, why the EPA is seeking information on what the community would like to see happen to the property following the site's remediation – even before the EPA knows what the remediation will encompass.
"We're purposely coming in sooner rather than later," Dhont said.
This Dewey-Humboldt Superfund site is the recipient of funds from the Superfund Redevelopment Initiative, which is not assigned to every site, he added.
The fund pays for a consultant to help the town think about future land uses it might like to see after remediation has taken place.
"That doesn't mean it's compatible with the clean-up decision, because we haven't chosen the clean-up option. But we'd like to see if we can make it compatible," Dhont said.
The town does not own any property on the contaminated site. However, there may be ways the town can be involved in what happens to the site, which encompasses the orange tailings pile at the Iron King Mine on the west side of Highway 69 and the smelter stack and property on the east side.
SMELTER SITE
Nolan, who supports the creation of a state park on the smelter site, said the owner of the property has indicated to him a willingness to donate 20 to 25 acres for such a project. The old assay office could be fixed up as a museum, he said.
EPA's safety survey indicates the structures are in extremely poor condition, Dhont said, and may not be able to be restored for human occupation. In addition, contamination underlies the structures.
"So clean-up could mean demolition of structures," he added.
The survey also shows poor condition and continuing deterioration of the smelter stack.
"That stack is in really bad shape," Dhont said as he presented photographs taken over several years. "That was one continuous rim of bricks. It's now shedding bricks, and the ladder is pulling apart from it. We keep people 150 feet away from it."
In addition, that part of the site contains contaminated dross material probably brought in by someone in the 1960s wanting to recycle aluminum. The dross covers even higher levels of contamination from the smelter where previous workers dumped waste products over the cliff producing an impressive amount of material similar to what molten lava looks like, Dhont said.

The monolithic material is mostly inert, but can be toxic to organisms if it gets wet or if chunks break off and fall into the Agua Fria River below, which has happened. When the monolithic material crumbles, it is considered glass slag, and huge piles exist on top the site.
As contaminated soil washed down from the mine, it collected behind a dam, and now up to 20 feet of tailings sits right up to the edge of the dam. Stormwater probably cascades over right over the top, Dhont said, creating what he calls a "tailings flood plain."
Part of the property contains a swale, a natural bowl shape depression. One option would be to relocate contaminated materials into the depression, making it a repository, and then capping the mound.
"Do we remove them? Do we cover them? These are the kinds of questions we ponder," he said.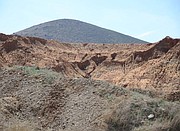 IRON KING MINE
At the Iron King Mine site, the tailings pile is comprised of 4 million cubic yards of contaminated materials 125 feet high with high levels of arsenic and lead. North American Industries owns most of the tailings pile with a small portion designated as state land.
"It's too steep for long-term stability. It has been stable for a while, but has crevices where a lot of water flows down; there is a certain amount of off flow and it erodes," Dhont said.
He showed a photo from five to eight years ago where 50 barren acres of the top of the pile appeared "amazingly crusty." Nothing could grow there due to high levels of arsenic in the soil. Another photo taken this past month shows green vegetation in areas where EPA had deposited contaminated soil from 50 residential yards. Compared to the original tailings, Dhont said the yard soil was "basically clean dirt" in which vegetation has grown.
COMPLEX SOLUTIONS
Cleaning up the entire site is a complex matter, as there are many different types and areas of contamination: waste material, dross, slag and contaminated soil at the smelter site; and arsenic and lead from the tailings that can move by air, water and soil.
Clean soil has washed down and mixed with the waste, depositing sediment in drainage and collection basins, or sometimes scouring it out and moving sediments downstream.
"We need to have a cleanup solution in every one of these different areas," Dhont said. "The options are not simple."
The feasibility study, which will include different clean-up options, is expected in June of next year. Between now and then, the consultants want to meet with community members to generate ideas on what will happen to the properties after they have been cleaned up.
This will help EPA's efforts to leave the property ready for the next stage, whether it be open space with trails, parks or athletic fields, or developed with solar energy, a museum or town government buildings – all ideas generated at a February meeting.
Whatever is decided, EPA would like to leave the property in a form that is compatible with development coming in. Dhont reminded town officials that EPA will not be doing the development.
The set of criteria used by EPA for cleanup is based on protecting human health and the environment. Land use is not one of them. Cost, and acceptance by the community and state Department of Environmental Quality are others.
If EPA caps contaminated materials, the cap has to be maintained into perpetuity, Dhont said.
"It can't erode, it can't be something people will be exposed to again. It has to keep water out, and keep people and animals from being exposed."
Town manager Tom Wilson said he and council members have begun a list of interested parties, and they will host community meetings soon to collect suggestions on future use of the property.
Follow Sue Tone on Twitter @ToneNotes. Reach her at stone@prescottaz.com or 928-445-3333, ext. 2043.
More like this story
SUBMIT FEEDBACK
Click Below to:
This Week's Circulars
To view money-saving ads...