Proposed ban on texting and driving on agenda for county supervisors

Originally Published: October 1, 2018 8:15 p.m.
If the Yavapai County Board of Supervisors says yes to a proposed ordinance at its morning meeting on Wednesday, Oct. 3, drivers in unincorporated areas caught texting could be fined $100. If texting was involved in a crash, the fine increases to $250.
Arizona is one of only three states without legislation prohibiting all drivers from texting while driving. It does, however, ban cellphone use by school bus drivers and those holding a learner's permit and provisional license holders during the first six months after licensing. There is no ban on texting while driving.
In her eight years as a state legislator, Sen. Karen Fann said there has not been enough legislators on board to offer a statewide ban. She was, however, successful in finding support for the driver's permit and provisional license holders' ban on cell phone use.
"Cities are doing it, counties are doing it," Fann said Friday, Sept. 28, in a phone call. "I applaud Yavapai County for having this conversation and moving it forward. Personally, if we should do it, let's do it for the entire Yavapai County, not just unincorporated areas."
Cities, towns and tribal nations in the county are exempt unless they choose to adopt the proposed ordinance.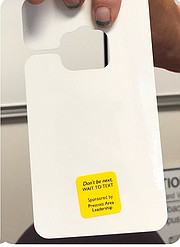 Fann said it's unfair to drivers and visitors not to have a uniform set of laws for state highways. "How do we know where it's legal or not?" she asked.
In addition to Arizona, Missouri bans texting for drivers 21 years or younger, and Montana has no ban whatsoever, according to the National Conference of State Legislatures.
"Texting is the most alarming distraction. Sending or reading a text takes your eyes off the road for five seconds. At 55 mph, that's like driving the length of an entire football field with your eyes closed," states the National Highway Traffic Safety Administration (NHTSA) website.
In states where bans exist, the punishment differs, often by quite a lot, NHTSA reports.
In Alaska, for example, texting and driving is a misdemeanor with a $50,000 fine and up to a year in prison. If someone is killed, the fine is $250,000 and up to 20 years in prison. In California, however, the first offense is a $20 fine, and subsequent offenses are $50.
Prescott Valley Police Chief Bryan Jarrell said, from a law enforcement perspective, he strongly supports any effort to curtail distracted driving in general and texting in particular. Prescott Valley may consider adopting the ban if the county does so, said Town Manager Larry Tarkowski.
And in Prescott, the police department and city leaders will continue to have discussions regarding this important topic, said David Fuller, PPD spokesperson.
"We would encourage everyone to be diligent in their driving behaviors and always wish to have voluntary compliance in existing laws to make our streets safer," Fuller said.
Prescott resident Lori Dekker said while she doesn't like the idea of the proposed ban, she thinks the county needs it.
"They are right on the money and I'm going to hate it. I'm a culprit. I want somebody to save me from myself," she said.
Dekker does not text while driving on freeways, but if the phone dings, she will pick it up, read the message, and make a quick response. If her answer is more than a yes or no, she starts praying for red lights, she said.
"It's really dangerous, and in California where it's been law, I didn't," Dekker said, calling herself a recovering texter. "It's a good idea. It made a difference for me. People like me don't want to pay the fine."
Sabrina Nacinoivich, 39, concurred. She, too, will text, mainly when stopped at stop signs or lights, she said. She is able to type and send text messages without looking at the screen. Nonetheless, if the ban is approved, she said she won't text and drive.
"I want to set a good example for my 10-year-old, and I try to be a good citizen. I think if you're talking on a phone, it's no different than having a conversation with a person in the car. But texting is different," Nacinoivich said.
The ordinance states: "A person shall not drive a motor vehicle while holding in his or her hand, typing on or otherwise manually operating a portable communications device."
There are seven exemptions that include allowing hands-free mobile devices, calling law enforcement or fire for an emergency, driving on private property, or pulled off the side of the road with the vehicle in park.
If the supervisors approve the ordinance, it will go into effect 30 days after adoption.
The board meeting takes place at 9 a.m. Wednesday, Oct. 3, at the Yavapai County Administrative Services Building, 1015 Fair St. in Prescott. The hearing on the ordinance is the last item on the agenda, other than convening into executive session.
Follow Sue Tone on Twitter @ToneNotes. Reach her at stone@prescottaz.com or 928-445-3333, ext. 2043.
More like this story
SUBMIT FEEDBACK
Click Below to: