Howard: Park of Fame: Tennis inductions and clinic success
My Point

Originally Published: October 1, 2018 noon
When you organize and run a fairly large event, there are quite a few unknowns.
It's a matter in our "PATA Tennis Clinic and Induction's for our Park of Tennis Fame" of getting our local tennis professionals and other notables from the Phoenix area to volunteer their time to teach 30 to 45 people on six courts at the Yavapai College tennis facility for 2½ hours the last weekend of September to first week of October.
During the 4 years we've been doing this special day these tennis professionals have been stellar in doing just that.
Local pro's Fay Matsumoto, Dave Hibbs, Sterling Fetty, Zack Hackerott, Tim McClintock, Cathy Low, Bernie Adam, Nick Cristea, Jan Hasse and Donnie Jones the Human Ball-machine and Rick Bothell, have been joined by Pete and Sheri Bronson of Phoenix and Larry Lineberry of Sedona, Pam and John Austin of California.
The clinic raises enough money to offset the cost of purchasing the bricks/ engraving for our inductees, purchasing lunch for the troops, and a little money to help national inductees with accommodations for two nights.
Any extra money goes in the PATA kitty to help with local tennis as needs arise. As much as you'd like every inductee to attend this event, sometimes it's just out of your hands.
Family emergencies, work schedules and life are sometimes known factors and other times make it where some can't make the date. That happened this year with a couple of our local high school "State High School Singles - and/or - Doubles Tennis Champions, singles champion Trisha Kempton/PHS 1996, 97 & 99; it also happened to State Doubles Champions, Tobias Campbell (BMHS) 2006 and Corey Bennett (PHS- 1999) - and if you're no longer with us (1942 Doubles State Champs/PHS, Jack Kapp and Joe Love who if still alive would be in their 90's.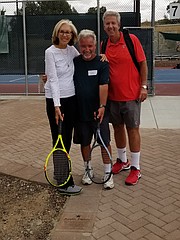 We did have high school coaches Rick Bothell, Esther Brown, and Dave Humphrey, (Kim Rice, mother of Corey) - player/pro and former inductee Brian Cheney stand and talk in behalf of the kids/friends they coached that were being inducted.
Many of the stories you hear show what it takes to reach the highest levels on and in the game of tennis.
The inductees 12 by 12 brick has been purchased, carved and laid in the main walkway to stadium court No. 7 for decades of honor and viewership by family, friends and strangers.
You hope the weather cooperates and so far hasn't been a complication, even though it was a close call this year with possible rainfall.
For our National induction this year we had two of the five Austin siblings, Pam and John, come represent them which lends extra history to our honorary tennis walkway.
It's interesting how the oldest sibling who starts the path to tennis greatness, makes it a little easier for the next, then the next til you reach the youngest who seems to benefit the most.
I hear some comments of, "Why do this?", while most see the merit in hearing the stories of what it took to in dedication to achieve these special honors - which in most cases goes way beyond in helping to learn life skills that mean quite a lot in coping with what comes your way.
It also becomes a local, northern, state and national history of the sport of tennis which over time can get lost and forgotten.
If you have a person who you think deserves to be honored for 2019, please take the time to write up a little bio as to why and send it care of choward4541@gmail.com, and congrats to all 2018 inductees.
Chris Howard is a local USPTA Tennis Professional with over 40 years in the racquet and fitness industry. He can be reached at 928-642-6775 or choward4541@gmail.com.
More like this story
SUBMIT FEEDBACK
Click Below to: