Chino Valley, Paulden residents to demonstrate their craft at annual art tour

Originally Published: October 1, 2018 11:04 p.m.
Out of the 80 juried artists at 51 private studios and three art centers for this year's 11th annual Prescott Area Artists Studio Tour, 10 are from Chino Valley and Paulden.
One such artist is Patty Lindsey of Glass Goons, 4455 N. Juniper Dr. who will be demonstrating pulling glass from a Vitrigraph Kiln. Lindsey, who is on the board for the tour, said she has participated for the past 10 years and was actually the first Chino Valley artist to do so. Having three Paulden artists is pretty big, she said.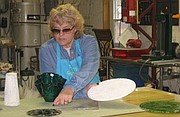 One of the things she enjoys about the Prescott Area Artists Studio Tour is showing people how to do things and how they are made, Lindsey said.
"They don't have to sit at home and just do nothing; they can enjoy life and have fun making things, which is just fun for me," she said. "That's the No. 1 thing, we're just trying to get the arts out there and show them that there is more to just going straight to a gallery. You've got to see how it's made to understand what you see in the galleries."
All studios and art centers will be open from 10 a.m. to 4 p.m. Friday-Sunday, Oct. 5-7.
There is a gala reception at 5 p.m. Wednesday, Oct. 3, at the Elks Theatre and Performing Arts Center, 117 E. Gurley St., which is open to the public, providing an early chance to meet several of the artists.
Participating in the tour is a lot of fun, Lindsey said. She will also have jeweler and mixed-media artist Adrienne Buffington as a guest artist. Buffington's demonstration will be lampwork bead-making and melting, shaping and blowing glass.
Woodworker Roger Harlow of Whims and Fancies, 863 Maple Lane, is set to be on the tour as well, demonstrating segmented wood turning. He has done the show for about eight years and has been working with wood since he turned his first bowl in junior high school in the early 1950s.
"I do all kinds of woodwork: cabinets and bookcases and desks and tables and chairs," Harlow said. "I like to do segmented work."
He said he enjoys being on the tour because not only does he sell a few things, but he also gets to meet and talk to people. A teacher at heart, Harlow said he enjoys showing others how to do things, and every now and then somebody will want to learn as well.
The tour has 70 other artists outside of Chino and Paulden as well, including Jacklyn Karabaich of Jacklyn Karabaich Fine Art, 697 Sixth St., Suite 102 in Prescott. Her medium is oil and acrylic painting, and she will be demonstrating her en plein air set-up and equipment.
This is only the second time Karabaich has been involved in the tour, choosing to do it again because of the exposure, she said. Last year, more than 100 people showed up on Friday alone. Many of them wanted her to teach or were taking lessons and wanted something that wasn't being covered, Karabaich said.
"We talked art all day long. It was great," she said. "I always give people recommendations. I hate people to spend money on things they don't need."
For more information about the Prescott Area Artists Studio Tour, including maps and a full list of participating artists, visit www.prescottstudiotour.com.
More like this story
SUBMIT FEEDBACK
Click Below to: