Christmas season continues with Christmas Parade, Courthouse Lighting

Originally Published: November 29, 2018 10:20 p.m.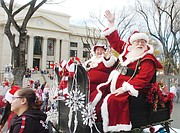 More than 80 parade entries and thousands of lights are set to continue the holiday season that kicked off last weekend.
Saturday, Dec. 1, sees the 36th annual Prescott Chamber Christmas Parade, which has about 89 entrie, according to Prescott Chamber of Commerce Special Events Coordinator Scott Currey, followed by the 64th annual Courthouse Lighting which Prescott Downtown Partnership Executive Director Kendall Jaspers says has a little more than a quarter million lights.
The number of entries is a little more than last year and includes five different marching bands and about 20 new participants, Currey said. It starts at 1 p.m. at courthouse plaza and has the theme of "A Hometown Christmas."
"It's really Prescott," Currey said.
Those entries include the Wells Fargo stagecoach and the sponsor, Findlay Subaru Prescott, closing the parade out with Santa Claus accompanied by the Prescott High School marching band.
Third-generation Prescott native Melissa Ruffner is this year's grand marshal. Ruffner is the daughter of Elisabeth Ruffner who is considered an Arizona living legend and was the first woman inducted into the Arizona Women's Hall of Fame. A Prescott historian, Melissa Ruffner was honored at the Chamber's Grand Marshall Gala on Thursday, Nov. 29.
Something that caught on last year was food vendors on the street, so they'll be back this year, Currey said. That way if someone can't get into one of the downtown restaurants, they can grab something quick, he said.
The weather does look good for Saturday afternoon, though it's going to be a little chilly, Currey said. However, that makes it better for getting in the spirit.
"There's nothing like a Christmas parade (in) downtown Prescott … Arizona's 'Christmas City,' with it being a little chilly that you have to wrap up," Currey said.
The festivities don't stop with the parade because afterward, Santa Claus will be available for photos on the plaza and that evening is the 64th annual Courthouse Lighting, where the courthouse plaza and Honor Park are lit up for the rest of the holiday season.
Something new this year are the lights and decorating package for the bandstand, Jaspers said. It will have some new LED light curtains that twinkle, a tree with wrapped presents and two selfie figures, he said.
"One's a snowman and one's a gingerbread man," Jaspers said. "The tree and the presents are kind of against the back, but you can go into the (bandstand), stick your face in the hole and get a selfie picture taken."
Further, while the statehood tree is in pretty rough shape and the last third is unsafe to climb in order to decorate, the rest of it will still be decorated, he said. The plan is to go up about 15 or 20 feet to the second tier of branches, wrap the trunk with lights like the other trees, then put up drip lights, Jaspers said.
"If you're close to it, it's going to be really cool," he said.
Once again this year as well, Prescott Downtown Partnership has wholesaled Christmas City mugs to various places around Prescott and whatever profits are made go to the courthouse lighting. Jaspers said he hopes to raise $4,000 to $5,000 this year.
The lighting ceremony, held on the north side of courthouse plaza, begins at 6 p.m. and is preceded by an hour of musical groups starting at 5 p.m.
The lights will shine through Sunday, Jan. 20.
SUBMIT FEEDBACK
Click Below to:
More like this story