Cold, wind, snow in the forecast
Safety tips to keep in mind

By
Max Efrein
|
mefrein
Originally Published: November 28, 2018 9:02 p.m.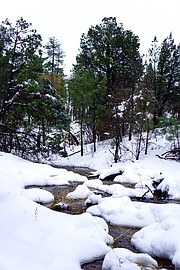 Bundle up campers, because it's going to be cold out there for at least the next few days.
Two back-to-back storm systems will begin moving through the Southwest on Thursday, Nov. 29, and last through the weekend.
The first storm is expected to bring windy, cooler and showery weather Thursday and Friday, according to the National Weather Service. The second trough will begin Saturday and bring even colder temperatures, with a slight chance of rain and snow Saturday night into Sunday for the Prescott area.
"For this time of the year, I would say they're about average storms," said Mark Stubblefield, meteorologist with the National Weather Service in Flagstaff.
As for snow accumulation, Stubblefield said the Prescott area might get up to a couple inches.
"It's still a little far out for us to really nail that down," he said.
Given this is winter's first assault for the season, the Central Arizona Fire and Medical Authority has provided the following safety tips to keep in mind moving forward:
SMOKE ALARMS
• Check the batteries monthly;
• Replace the battery once a year;
• If over 10 years old, smoke alarms need to be replaced; and,
• Smoke alarms should be on every level of your home and in sleeping areas.
CARBON MONOXIDE (CO) ALARMS
• If your home has gas or propane appliances or a fireplace or woodstove, a CO detector is important to have.
• CO is a colorless and odorless gas that comes from incomplete combustion from fuel burning appliances and fireplaces/woodstoves.
• CO poisoning is more prevalent during the winter months due to homes being closed up and not having enough venting.
HEATERS
• Follow the manufacturer's instructions on how to properly use the heater.
• Make sure the heater is at a safe distance from combustible items such as towels, curtains, bedding and clothing items.
• Remember to turn the heater off when leaving your home, the room or going to bed.
• Do not use portable propane heaters inside of your home.
• Check the electrical cords to ensure there's no fraying or cracking.
• Be aware if the heater has a temperature-control setting, it may appear to be off until the temperature is reached and the heater will turn back on.
• Plug them directly into an outlet and not into an extension cord.
FIREPLACES/WOOD STOVES
• Have your chimney or flue pipe cleaned annually.
• Make sure combustibles such as newspapers, matches and firewood are a safe distance from the heat source.
• Ashes can stay hot for several days. Never put them in a paper bag, cardboard box or plastic trash can. Always put them in an outside metal container, soak it with water and put a lid over it. Then place the container away from your home, wood deck, dry vegetation or any other structure.
• Never use flammable liquids to start a fire.
• Never burn cardboard, trash or debris in your fireplace or wood stove.
CANDLES
• Place candles in sturdy containers or on appropriate bases made for candles.
• Keep candles a safe distance from combustibles.
• Extinguish candles before going to bed or leaving your home.
• Keep them away from pets and children.
More like this story
SUBMIT FEEDBACK
Click Below to: