Celebrate Christmas frontier style
More children's crafts this year

Originally Published: November 28, 2018 9:07 p.m.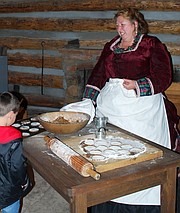 Sharlot Hall Museum is unleashing the Spirit of Christmas Past, giving a glimpse into how Christmas looked during a simpler time Saturday, Dec. 1, with the museum's annual Frontier Christmas Open House.
Open from 6 to 8:30 p.m., there's going to be a lot of the things that people remember as the trademarks of Frontier Christmas with some more children's crafts, said Education Manager and Event Coordinator Jenny Pederson.
"Last year, our children's crafts were really popular," Pederson said. "So this year we've added a couple."
The crafts are Victorian-inspired and the kids can make bead ornaments, paper fans, paper chains and paper silhouettes, Christmas bells and holiday banners. Additionally, everyone has the chance to make their own vintage-inspired postcards and a paper chain they can take home to be a Christmas decoration.
The crafts will be in the West Gallery, while there is also the opportunity to make a one-of-a-kind Christmas ornament while listening to Christmas folk songs for children with Don Zieman in the Transportation Building, and the cookies and cider that have become a staple of Frontier Christmas, donated this year from the Prescott Valley Safeway, will be in the Frontier Mercantile. At the same time, the Living History program and the interpreters will be all over the museum talking about historic Christmases, welcoming visitors and sharing information.
In the Governor's Mansion, frontier Prescottonians will trim the Governor's Christmas tree and cookies will bake in the wood-burning stove of the Ranch House. Christmas music will be featured on the player piano in the Sharlot Hall building while Judge John Howard presents Christmas Stories of Territorial Prescott and its citizens in Fort Misery. Meet historical Prescottonians in the Frémont House and visit the School House as class is in-session with the schoolmistress and her students.
Troy Groves is going to be running the Print Shop Saturday night as well, Pederson said. The special poster he's making for this year's event is another fun thing for the visitors to take away.
There will be music in the Lawler Exhibit Center too. Featured are Cindy Weir, Eric Douglas, the High Mountain Chordsmen and Womansong. Douglas will put a twist on a Christmas classic, said Museum Media and Marketing Manager Ken Leja.
"He'll be doing the '12 Nights of Christmas in Arizona," Leja said.
Pederson noted that the Frontier Christmas Open House is her favorite event of the year. It's definitely a mix of a fun and festival atmosphere with a little bit of learning, she said.
Admission is $5 for nonmembers and free to museum members and youth ages 17 and under. Purchase of a museum membership that evening means part of the membership price going to admission.
Sharlot Hall Museum is located at 415 W. Gurley St.
For more information, visit www.sharlot.org.
More like this story
SUBMIT FEEDBACK
Click Below to: