Council opposes predator killing contests in Dewey-Humboldt
Supports critical role of predators in ecosystem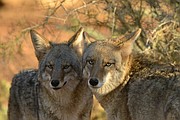 An organization's plan to conduct a coyote killing contest in Dewey-Humboldt was thwarted at the Dewey-Humboldt Town Council meeting Tuesday, Nov. 20, when the council approved a resolution opposing predator hunts.
A contentious 45-minute discussion during the meeting included impassioned pleas from members of the audience to make a statement opposing competitive predator hunts, while those opposed reacted to "bullying" tactics by out-of-town people.
The Coyote Calling Tournament called "Santa Slay" is listed on the Call in the Country website, which also lists similar events in Nevada, Utah, New Mexico, Oklahoma and Texas. Santa Slay is scheduled to take place somewhere in Dewey-Humboldt on Dec. 15 and 16 on public land and targets coyotes only.
Competitions of this type are often advertised to an underground community that vies for cash prizes, high-powered rifles and trophy buckles for the most animals killed on the day of the contest.
Besides coyotes, some events include fox, bobcat and mountain lion kills. Competitions go by names like Varmint Tournament, Coyote Calling Challenge and Antelope Eaters Hunt.
Council eventually voted 4-2 to approve the resolution, which states Dewey-Humboldt opposes any and all future competitive killing hunts in the town. Council member Ann Timmons and Vice Mayor John Hughes opposed the resolution; Mark McBrady was absent.
OPPONENTS
Several opponents spoke against the contests earlier this month at the Yavapai County Board of Supervisors meeting Nov. 7 where they brought the upcoming Santa Slay competition to the attention of the supervisors.
"Hunting and killing contests are two different things," Betsy Klein said during the public comment segment. She described the contests as unethical, unsporting, cruel and reprehensible, where the "bodies are left and treated like trash." Klein called upon the supervisors to end the killing contests throughout Yavapai County.
ARGUMENTS
In Dewey-Humboldt, emotions ran high between Timmons and two other council members supporting the resolution, Doug Treadway and Victoria Wendt.
Timmons referenced recent emails sent to council members that were "nasty," and said the council was being bullied and made to look like a bad town.
"We are being told that we are degenerate people," Timmons said, who was opposed to approving the resolution as a response to the emails and the call for a boycott of local businesses. She added that the town has nothing to do with these contests and suggested that Treadway speak with Arizona Game and Fish Department officials about his concerns.
Wendt said she was inundated with "rather bullying emails" targeted to some businesses that have nothing to do with the contest. "I am in support of this (resolution), but very saddened that there are organizations out there that came in and bullied our community."
Gary Mortimer, co-owner of Mortimer Family Farm, also expressed his anger to those emails that asked people to boycott his business.
PUBLIC COMMENTS
Some on the council thought members in the audience were responsible for the emails. During public comment, several spoke up and denied any responsibility or affiliation with the email senders.
Matt Francis of Prescott called the senders cowards. He said killing coyotes actually causes dysfunction in the packs, which leads to more breeding and results in larger population.
Another audience member said, "I think it's completely appropriate for Dewey to say you don't want that type of activity here." The contests are not recognized as legitimate management tools by the Arizona Game and Fish Department. Sheep and cattle will not be better off, it only results in more coyotes, he said.
Another person who reported he, too, had received threats, said the kill contests are not about predator control or hunting. "People make money off these hunts. It is the equivalent of cockfighting and dog fighting. They are using your backyard for their financial gain."
The town prohibits the shooting of firearms within town limits within a quarter-mile of a house, which frustrates some residents who are not allowed to shoot javelinas, raccoons or coyotes on their properties.
CONCERNS OVER KILLING
Treadway brought this item before the council previously and on Tuesday reiterated his desire for the resolution. "I think this will reflect a tremendous amount of character and integrity for our wildlife resources. It is something I believe this town should not condone, and we can make a statement.
"They (coyotes) do have ecological value and are an important part of our ecosystem. It's completely unethical," he added.
In addition to the indiscriminate numbers of coyotes killed, the killing itself concerned two women in the audience. One, a counselor, said the contests are not about protecting livestock.
"It's not about hunting; it's about the senseless killing of coyotes. They have made it a game. I find this type of behavior is incredibly alarming as a counselor. To say, 'I will go slaughter as much as I can for fun,' and pile up carcasses, is very alarming to me."
Cheryl Casati, retired military from 20 years of active duty, said she found it interesting that the violence caused by these activities cause "the most amazing rifts in the psychology and psyche of people.
"These are blood sports as an act of terror. I know what that looks like. I know what it takes to kill just to kill. These contests have no space in the fabric of Arizona," said Casati, now an equestrian coach.
More like this story
SUBMIT FEEDBACK
Click Below to:
This Week's Circulars
To view money-saving ads...