Church News: Week of Nov. 24, 2018
Originally Published: November 23, 2018 8:13 p.m.
"And Justice For All" will be presented by Nancy Reid-McKee, service leader at 10 a.m. Sunday, Nov. 25, at Granite Peak U.U. Congregation, 882 Sunset Ave., Prescott. As we explore the idea of invisible saints, we will wonder, "Who are the saints among us?" This is about the work we do outside the walls of the congregation buildings, with particular attention to our ongoing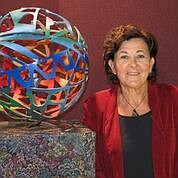 presence at the Prescott Juvenile Detention Facility. What are the ways in which Unitarian Universalists can connect with the larger community? Members of the congregation led by Nancy Reid-McKee will share their experiences of working with the juvenile justice system and its connection to the larger community. Children and youth will attend the first part of the service in the sanctuary and will be sung out to faith development classes. Nancy Reid-McKee is a long-time member of Granite Peak Unitarian Universalist Congregation. She recently completed seminary studies and a ministerial internship. She is working with the Prison Ministry Project of the U.U. Church of the Larger Fellowship. For more information, please visit Granite Peak Unitarian Universalist Congregation on Facebook at: https://www.facebook.com/granitepeakuucongregation or our website: http://www.prescottuu.org.
"Who is Grace Deer?" is the title at the 11 a.m. service at Prescott Unitarian Universalist Fellowship, 945 Rancho Vista Drive, Prescott. Annette Schober, who was known by the pen name Grace Deer will be remembered for her poetry, prose, songs and art. Al Schober will share her poetry and little- known stories of her personal reflections. Meg Bohrman, musician and activist will provide the music for the service which will include one of Grace Deer's songs.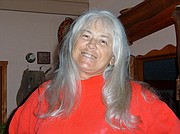 Annette is the author of "Joe Long Road" a book of prose and poetry and "The Book of One Tree," a collection of short stories about the people of the earth. Ms. Schober lived in Arizona most of her life. Her home on Black Mesa is a simple one at the end of many miles of dirt road. When she was younger there was no electricity, running water or television. Now there is solar power and rain catchment tanks thanks to her husband, Al, who still lives in the home they built together. She loved to roam the hills and mesas with her many dogs and feel the spirit. Grace Deer died Feb. 27, 2016.
Mountain View Baptist Church hosts monthly Gospel concert from 5:30 to 6:30 p.m. Sunday, Nov. 25, at 395 Pony Place, Dewey. We are hosting a concert with Joy Williams. This wonderful young lady is a joy to listen to. Her music will soothe your soul and inspire you. Admission is free, but a love offering will be gratefully accepted.
We're moving! Firm Foundation, a Christian fellowship, is moving from our current location at 9500 E. Lorna Lane, Prescott Valley, to 8933 E. Florentine, Prescott Valley. Our first service at the new location will be at 10 a.m. Nov. 28. We are a non-denomination, Bible-based church identified by our love for the Lord Jesus Christ, love for each other and are welcoming to all. Come and hear God's Word powerfully proclaimed.
There will be a Chino Valley Community Choir Concert at 2 p.m. Dec. 8 at Heritage Middle School Cafeteria, 1076 N. Road 1 West, Chino Valley. The entire community, schools, churches, businesses and surrounding areas are welcome to sing in the choir and attend this free event. Begin the 2018 holiday season creating new memories. Rehearsals scheduled at the Heritage Middle School Cafeteria from 7 to 8 p.m. Nov. 27 and Dec. 6. For more information, contact: cvazcommunitychoir@gmail.com.
"Jingle Bells" Christmas Gift Faire and Bake Sale from 10 a.m. to 2 p.m. Saturday, Dec. 1 at Prescott Valley United Methodist Church, 8944 E. Sommer Drive, Prescott Valley (nearest cross streets are Navajo Drive and Sommer Drive). There will be a great variety of arts and crafts from the quad-cities and delicious bake sale items too. For more information, contact Jeannie at 928-772-6760.
John Stumbo, the President of the Christian & Missionary Alliance (C&MA) will be visiting Alliance Bible Church, 2601 W. Iron Spring Road, Prescott, at 6 p.m. Dec. 1. John first responded to the Gospel of Jesus as a 7-year-old boy. He received his BA from Crown College and his MA in missiology from Columbia (S.C.) International University. He earned a DMin in leadership from George Fox Evangelical Seminary in 2011. Most of John's 35 years of ministry have been as pastor, including Salem Alliance Church in Salem, Oregon. Through the years, he was an active sportsman and was often found with hiking boots, running shoes, tennis rackets or fishing poles. In June 2013 at the Alliance Council in Tampa, Florida, John was elected the 12th president of the U.S. C&MA. President Stumbo recently stated, "The hand of God is obviously on The Alliance. He raised up The Alliance to be one of His end–times families to bring the Gospel of Jesus to the least-reached places of the world through Spirit–filled, Bible–preaching, God–honoring, people–loving churches. I'm deeply honored—and feel it a holy trust—to lead this family at this time. Our work is not complete until Christ returns." Who the Christian & Missionary Alliance is and who we become matters! Our faith and work has direct impact upon souls, generations, people groups, churches, nations and even our understanding of God.
All are welcome to join Beit Torah Jewish Congregation (www.onetorah.org) in memorial activities for Patricia Lobel-Chancerelle of blessed memory. For details, call 928-237-0390, 928-227-0582 or email ansheitorah@cableone.net.

Trinity Presbyterian Church of Prescott present the Cantata: "Christmas Dreams" by Joseph Martin and Heather Sorenson. Performed by the Trinity Chancel Choir and Orchestra. At 9 a.m. and 11 a.m. Sunday, Dec. 2 at 630 Park Ave. 928-445-4536.
There will be an Advent Worship Service at 4:30 p.m. Wednesday, Dec. 5 at Saving Grace Lutheran Church, 440 W Palomino Road, Chino Valley. 928-636-9533.
Ebenezer Scrooge Radio Drama will be at 7 p.m., Dec. 5 at First Congregational Church, 216 E. Gurley St., Prescott. Dickens' classic, timeless tale of a miserly old man convinced to change his ways by the visit of three spirits comes to life as a one-hour Radio Drama. Free admission.
All Saints Anglican Church will host a Cookie Walk from 9 a.m. to 3 p.m. Saturday, Dec. 8. The Ladies Guild is holding its' first ever Cookie Walk. What is a Cookie Walk? Want homemade cookies for Christmas but have no time or desire to bake? Don't worry, we've got you covered. Come select from a large variety of homemade cookies. Pay by the weight of your box at the end of your walk. Homemade peanut brittle also available for purchase. We will also debut our "Heavenly Fudge" made by the Ladies. Great for last minute gifts, stocking stuffers, hostess gifts, or your own enjoyment. We are located at 1806 N Savage Lane, Prescott.
At 10 a.m. Sunday, Dec. 9, All Saints Anglican Church will have a service of confirmation celebrated by Bishop Robert Giffin, followed by a luncheon reception in the parish hall. All are welcome. We are located at 1806 N Savage Lane, Prescott.
Nashville, Tenn - cutting edge Southern Gospel group, New Legacy Project, will be in concert at 6 p.m. Sunday, Dec. 9 at Grace Baptist Church, 2010 South Hwy. 89. Admission is free to this non-ticketed event.
The popular award-nominated group have just released a new lyric video of their breakout song "I'll Stand," which was written by tenor singer, Paul Secord, in support of all the Veterans who have sacrificed so much for our great country. This concert is part of their 2018 "I'll Stand" tour.
There will be an Advent Worship Service at 4:30 p.m. Wednesday, Dec. 12 at Saving Grace Lutheran Church, 440 W Palomino Road, Chino Valley. 928-636-9533.
American Lutheran Church's Family Ministry invites all to a Family Christmas Breakfast from 9 to 11 a.m. Saturday, Dec. 15, featuring crafts, games, food, and fun for the whole family. Admission is free. Put this event on your calendar now so you don't miss out! Questions? Contact Tricia Sokoloski, Director of Children's and Family Ministries, 928-445-4348, ext. 318, or tricia@americanlutheran.net.
There will be an Advent Worship Service at 4:30 p.m. Wednesday, Dec. 19 at Saving Grace Lutheran Church, 440 W Palomino Road, Chino Valley. 928-636-9533.
There will be a Christmas Eve Candelight Service at 4:30 p.m. Wednesday, Dec. 24 at Saving Grace Lutheran Church, 440 W Palomino Road, Chino Valley. 928-636-9533.
Family Christmas wish list with Prescott United Methodist Church. Family Christmas provides children from low-income families (birth through 18 years) with new Christmas gifts. Your donations help make this possible. Family Christmas served 1,400 children in 2017.
The 12 most needed gift items are: teen purses, jewelry and makeup, gift cards, sports equipment (skate boards, razor scooters, balls, bats, gloves, bike helmets and sleeping bags), kid's books, dolls of all kinds, plastic or wooden building blocks, toy cars, planes and trucks, kids' pajamas, kid's winter clothing, art and craft kits, games (Pick Up Sticks, Cootie, Jenga, Twister, Dominoes, Connect 4 Scrabble, etc.) and wrapped candy and stocking suffers.
Please bring unwrapped gifts by Dec. 19 to Prescott United Methodist Church at 505 W. Gurley St. For more information, email pastormity@prescottumc.com.
Jane's Hope is a Christian ministry open to anyone who has relinquished a child through abortion or adoption, to share, heal, support each other, and experience forgiveness through Jesus Christ. We meet on the fourth Saturday of every month (excluding November and December). The next meeting will be held at 10 a.m. Saturday, Jan. 26 at The Porch, 226 Montezuma. For more information, please contact Mary Ann at maryannwinslow1@gmail.com or Prescott Christian Church at 928-445-0680.
It's time to sign up for this year's production of Walk Through Bethlehem, American Lutheran Church's Christmas gift to the community. Each year thousands of people attend and experience the sights, sounds and smells of the town of Bethlehem over 2,000 years ago through 30-minute interactive, guided tours. Four hundred-plus volunteers are needed in many different areas to make Walk Through Bethlehem a success. If you would like to participate in this holiday event, volunteer forms are available in the church office, 1085 Scott Drive, throughout the week, or on the website (www.americanlutheran.net). Additional needs for the event include animals (donkeys/mini horses, goats, chickens, and rabbits) and food (coffee, cookies, cases of 8 oz. bottled water).
This year's expanded performance schedule is: 1:30 to 3:30 p.m. Wednesday, Nov. 28 6 to 8 p.m. Thursday, Nov. 29, 6 to 8 p.m. Friday, Nov. 30, 6 to 8 p.m. Thursday, Dec. 6, 1:30 to 3:30 p.m. Friday, Dec. 7, and 6 to 8 p.m. Saturday, Dec. 8.
Important Walk Through Bethlehem dates are as follows: Costume Fittings: 9:30 a.m. to noon Sundays, November 18 and 25 from 5 to 6 p.m. Tuesday, Nov. 27. Orientation: 6 to 7 p.m. Tuesday, Nov. 27; 6 to 8 p.m. Dec. 8. For more information on Walk Through Bethlehem, contact the church office at 928-445-4348.
American Lutheran Church's "Young at Heart" (YAH) group will meet at noon Tuesday, Nov. 27 to enjoy lunch and a delightful program. Prescott's Dueting Divas Merlene Neil and Susan Powell will join hands to bring a vast repertoire of delightful piano duet music in a variety of styles – from classical to humorous, from hymns to boogie – with a slight nod to Victor Borge.

Merlene has had a melodious career as a piano teacher and Music and Performance Director for 40 years, most recently serving 20 years at Prescott First Nazarene Church. Susan has been a pianist and piano teacher in Prescott for over 40 years, emphasizing the need to make music fun and educational for the next generations.
To make luncheon reservations, please contact the church office at 928-445-4348. www.americanlutheran.net.
Annual Christmas Cookie Walk. Drop by after the parade at Prescott United Methodist Church, 505 W. Gurley Street, Prescott. Purchase your plate of goodies from 2 to 5 p.m. Dec. 1 in Esther Hall.
More like this story
SUBMIT FEEDBACK
Click Below to:
This Week's Circulars
To view money-saving ads...