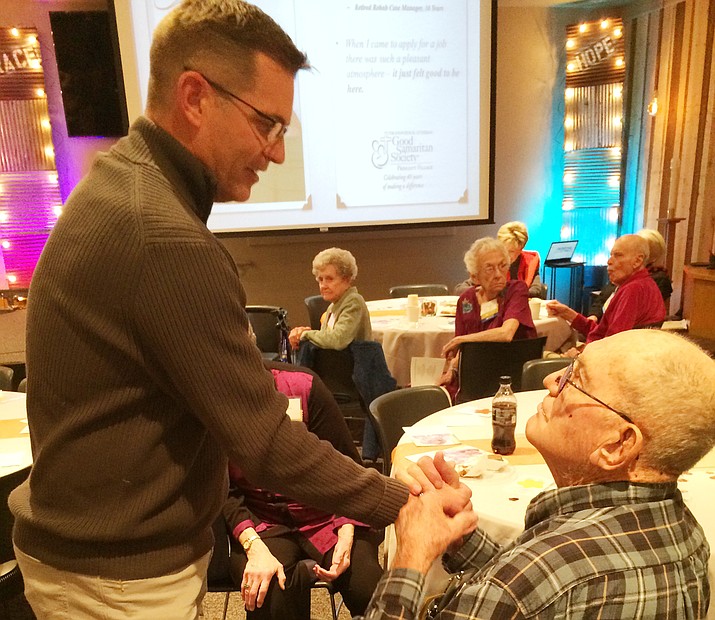 Originally Published: November 23, 2018 9:03 p.m.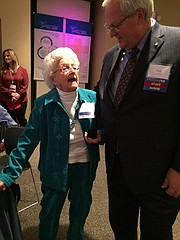 At the Good Samaritan Prescott Village's 40th anniversary celebration on Nov. 14, seven-year resident and volunteer Dorothy Maddock was delighted to toast the place she is proud to now call her home.
"I love it. I've never regretted one minute of moving in," said Maddock, who joined with at least 100 residents, donors, and civic leaders to celebrate the milestone in the American Lutheran Church fellowship hall. "They take good care of us."
Good Samaritan is part of the Evangelical Lutheran Good Samaritan Society that operates 200 Christian-based senior citizen care facilities — with those services ranging from independent to long-term care and hospice services — in 24 states. The national organization's President and Chief Executive Officer, David Horazdovsky, headquartered in Sioux Falls, South Dakota, attended the ceremony.
"It's always a wonderful thing to take time to celebrate where we came from," Horazdovsky said. "We need to look back and remember our roots so we can go forward for the next 40 years; and we're looking forward to a great future ahead of us."
Prescott Village Administrator Angie Gasser said one of the things she most appreciates is seeing the impact Good Samaritan makes on the Prescott-area community.
"It seems that wherever you go and whoever you meet, they are connected to Good Sam in some way," Gasser said. "This kind of impact would not have been possible without many people, including some of our residents who have called Prescott Village home for more than 20 years, a number of staff members who have worked here 20 plus years, and our volunteers and donors."
Prescott Mayor Greg Mengarelli and Good Samaritan's leaders gave special salutes to those 20-year residents and volunteers who proved instrumental in raising the money needed to launch the faith-based facilities that have since expanded to other services. Two of those people given special recognition are Jean Phillips and Cal Cordes.
Phillips was part of a quartet of women — locally referred to as "The Four Horsemen" — who became Good Sam's initial fundraising ambassadors, raising more than half a million dollars to buy the land and begin construction on the Scott Drive senior care apartments. The village now also includes long-term care and independent, retirement casitas. Cordes, a U.S. Army veteran who served in the Korean Occupation Force, was honored as both a 30-year volunteer and resident. He jokes that he came to visit one day and was asked if he could drive some residents to appointments. He's been doing so ever since.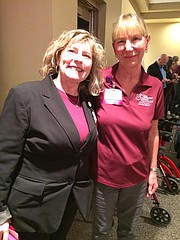 Good Samaritan has witnessed considerable growth, and expansion of services, over the years. They now have multiple facilities in Prescott and Prescott Valley, and the only in-patient hospice, Marley House, on Ruth Street. (See timeline.)
The theme of the anniversary program is "Giving thanks for touching 60,000 + lives!"
Another event honoree is registered nurse Joann Skurja; she started her career with Good Sam when it opened the doors four decades ago. And she's not yet planning a retirement party.
"It's been my family for all these years," Skurja said.
A humble woman who blushed as she was showered with accolades said she considers working with the community's geriatric population to be a true "privilege."
"I love my job," Skurja said.
Good Samaritan Donor Engagement Director Gretchen Gallagher said Skurja is a prize, every day treating seniors as she would her own family and inspiring others to do likewise.
"Everyone looks to you as an inspiration," Gallagher declared.
"I want people to be treated with respect and dignity," Skurja said. "And I'm glad I'm still here to do that for them."
In closing, Horazdovsky and the organization's spiritual leaders called on divine guidance to assure Good Samaritan Prescott Village continues to be a blessing to all who work within its facilities, those who dwell in them, and those in the community who support them. They prayed that all comers are treated to a life of dignity and hope, and that those who "built this house of care" will inspire future generations to assure it continues to be a comfort to those in their twilight years.
The final lyrics of "The Good Samaritan Society Way Song" speak to the continuing mission:
"…Honesty, acceptance, compassion and joy, these are the traits that we should employ each time that we come together as one Society with sacred work to be done."
History Timeline…
1972-1975 - Seven local churches determined need for a Christian-based retirement center and nursing home in Prescott. In 1972, approximately 33 percent of the population in Prescott was 62 or older. Commitments were made for proposed location at 1030 Scott Drive leading to second floor of apartments.
1975-1976 - A quartet of influential women — Charlotte Flahive, Jean Phillips, Marie Mills and Ethel Lytle — launched the initial fundraising campaign: goal $550,000. In two-person teams, they went door-to-door in Prescott to share the mission and need for a retirement and nursing home in Prescott.
1976 - Exceeded the goal to buy 9.1 acres of land and cover costs for building what was a $2.5 million Senior Living and Nursing Center named Prescott Samaritan Village.
1977-78 - Ground breaking/opening of Prescott Village independent living and long-term care.
1982 - GSS built affordable senior apartments — The Village Tower on Ruth Street.
1985 - Prescott Village built 36 Casitas for independent senior living.
1996-1998 - GSS received a gift of land from the Fain Family via Charitable Remainder Annuity Trust for building/expanding Prescott Valley and Windsong Villas.
1997 - Prescott Valley Health Center and long-term care opens for seniors.
2002 - Ruth Street building and vacant adjoining property sold to GSS Prescott Village via Charitable Remainder Unitrust.
2003 - Willow Wind Assisted Living is purchased by GSS offering assisted living for seniors — the only single floor assisted living in Prescott area.
2004 - Windsong Villas Senior independent living opens in Prescott Valley.
2007 - YRMC sells hospice to GSS establishing GSS — Prescott Hospice Home Health.
2007 - Philanthropists Barbara and Bob Mariano partner with GSS to raise money to build a hospice home.
2008 - 30th Anniversary of GSS Samaritan Village in Prescott.
2009-10 - Ground breaking and opening of Marley House, the only area nonprofit, faith based inpatient Hospice House with 10 private rooms.
2014 - GSS buys Legacy Home Care, a new in-home medical care for seniors.
2015 - Marley House fifth anniversary.
2016 - Prescott Valley closes memory care; adds private physical rehabilitation rooms.
2016 - Renovations completed at Prescott Village Tower.
2017 - Hospice and Marley House provide services to nearly 4,000 families.
2018 - 40th Anniversary of Prescott Samaritan Village.
2018 - Legacy Home Care Achieves Five Star Rating by Clients.
More like this story