Light parade kicks off holiday season

Originally Published: November 22, 2018 10:30 p.m.
Kick off the holiday season this weekend with a parade of lights followed by an after-parade party at Prescott Mile High Middle School's athletic field.
It's the 23rd annual Holiday Light Parade, this year with 36 entries, according to Prescott Downtown Partnership Executive Director Kendall Jaspers. Starting at 6 p.m. Saturday, Nov. 24, the parade will begin at Prescott Mile High Middle School, circle courthouse plaza and end at the school.
Of those 36 entries, a good portion of them are new this year, said PDP Assistant Director Debbie Koch. They include Mortimer Nursery & Landscape, ZebraScape Landscaping, United Animal Friends and Granite Orthopedics. Shadow Mountain High School's marching band and the Chino Valley Cougar Pride Marching Band are also set to participate as are the White family once again, Koch said.
From Glendale, the White family started taking part in the parade about four or five years ago and, at that time, it was four of them on bicycles, she said.
"They've grown from like four bikes to 14 bicycles and three with trailers," Koch said. "It really kicks off the holidays for them. It's their family tradition to come to Prescott and do the Light Parade for Thanksgiving weekend."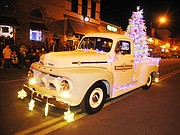 Usually, Unisource has the biggest and brightest float, but they're not going to be able to participate this year, Jaspers said, adding that it's a lot of work to put together and the company doesn't have the time this year.
Following the parade is the after party that has a bonfire and Christmas music, Jaspers said. Kids can also try their hand at besting 60 to 75 feet of reindeer ornaments.
"We have six large silhouette-type reindeer in different stages," Jaspers said. "They're on a sequencer so kids can try to race them as they come on."
The ornaments used to be placed on courthouse plaza but there were a few issues surrounding their presence, Jaspers said. Additionally, people used to move them around at night and put them in different positions, sometime setting them up in a way people were able to run against them, so Prescott Downtown Partnership picked up on that, he said.
With a good crowd continually coming for the annual Holiday Light Parade, the goal with the after party is to keep people downtown, Jaspers said. Prescott Mile High Middle School is located at 300 S. Granite St.
The 23rd annual Holiday Light Parade kicks off the holiday season in Prescott, Arizona's "Christmas City," and numerous attractions exhibit that special holiday cheer such as the 26th annual Gingerbread Village display at Prescott Resort & Conference Center, 1500 E. Highway 69. It's free and open 24 hours a day every day until Tuesday, Jan. 1, 2019.
The Prescott Christmas Parade and the 64th annual Courthouse Christmas Lighting begin at 6 p.m. on the north side of the plaza Saturday, Dec. 1.
SUBMIT FEEDBACK
Click Below to:
More like this story