How fentanyl makes its way into quad-city communities
Residents can help track down area dealers

By
Max Efrein
|
mefrein
Originally Published: November 22, 2018 10:30 p.m.
Two years ago, Sgt. Jeremy Martin and his unit within Partners Against Narcotics Trafficking (PANT) in Yavapai County rarely spoke about fentanyl.
"Now it's an every week occurrence that we talk about it," Martin said.
How the powerful synthetic opioid quickly gained in popularity among drug dealers and made its way into Yavapai County is pretty well understood, Martin said.
In the late 1990s, pharmaceutical companies told the medical community that patients would not become addicted to prescription opiate pain relievers, according to the National Institute on Drug Abuse.
Health care professionals believed them and started prescribing opiates at a much greater rate. By the time everyone realized that these medications were indeed addictive, it was too late; an opioid epidemic had already taken hold within the country.

The federal government started to crack down on the distribution of prescription opioids, but drug users still wanted what they came to rely on, so they turned to heroin, Martin said.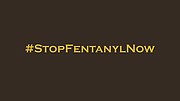 The high demand pushed the cost of heroin up, so the black market began to shift in the past few years to a cheaper, more potent substitute. Synthesized in China, large quantities of fentanyl has been getting shipped to Mexico, where it's made into pills and transported over the border into Tucson and Phoenix, Martin said. Dealers then bring the pills up to the quad-city area to distribute.
"The reason why they're using fentanyl is because it can get you high really fast, and it's really cheap," Martin said. "That's the reality of it. If it's cheap and it's easy to get, the drug users, and the ones that are experimenting with it, are going to use it."
It became evident that fentanyl was a potential concern for Yavapai County when a K-9 deputy with the Yavapai County Sheriff's Office (YCSO) managed to seize 14 pounds of pure fentanyl during a traffic stop along Interstate 40 near Ash Fork in late 2015.
"For someone who's not addicted, it could have killed well over 3 million people, just that amount alone," Martin said.
The Drug Enforcement Administration told the YCSO that the seizure was one of the largest in the country that year.
TRACKING DOWN DEALERS
Martin suspects there are well over 50 dealers of fentanyl-laced drugs still active in our community.
PANT is constantly investigating leads into such dealers and gathering evidence, but it's not simply a matter of going out and arresting them, Martin said.
"We can probably arrest a lot more, but we want solid cases on them that's actually going to make a difference so they're not back out tomorrow doing the same thing," he said.
Sometimes, building a strong case can happen in a matter of hours if information is fresh and the evidence is clear. Other times, it can take a "year to a year-and-a-half depending on how intricate the case is."
But the community can help shorten that timeframe.
"We're more than happy to take any information, because we keep track of it all," Martin said. "If you have a first and last name [of a potential drug dealer], that's pretty much all we need to start working on the case."
While people are welcome to call PANT or their local law enforcement agency to report information about a possible drug dealer in our area, they may also call Yavapai Silent Witness at 1-800-932-3232. Using a $10,000 donation from The Daily Courier, a $1,000 minimum reward is currently being offered by Yavapai Silent Witness for information that leads to the arrest of a fentanyl dealer. No name is required to receive the reward.
Other businesses and individuals have begun donating additional funds to the Yavapai County Sheriff's Office (YCSO) to combat the opioid drug issues facing our area, said Sheriff Scott Mascher.
"Money is coming in to the K-9 fund," Mascher said. "This stuff is coming across the border, and we are really, truly going to focus with our K-9s on this interdiction. I think by maximizing some more effort in there, that it's really going to help us get a lot of this off the streets straight from the cartels across the border on the highways, byways and thoroughfares."
StopFentanylNow
Related Stories
More like this story
SUBMIT FEEDBACK
Click Below to:
This Week's Circulars
To view money-saving ads...