Enchanted Christmas in new location

Originally Published: November 22, 2018 10:21 p.m.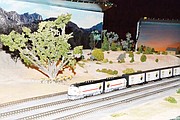 The Enchanted Christmas Tour of Lights is in a new location this year: at the Depot Marketplace, where Manzanita Outfitters used to be.
The reason for its departure from the Gateway Mall is because a long-term tenant moved into the space where the attraction has been in the past, said M&M Entertainment & Productions Co-Founder Matt Brassard. The new location, 337 N. Montezuma St., Suite 101, came up at the last minute and they've done a good job at keeping the feeling the same size, Brassard said.
All of the scenes have been kind of revamped because of the whole new setup, he said. As such, there's a freshness of a whole new layout. They're doing everything they can to get it done too, he said. Usually, it takes a couple of months to set up, but due to getting the location at the last minute, they're doing it in 18 days, Brassard said. Nevertheless, it's better to put it on, he said.
"I think the community has really grown to love it," Brassard said. "They look forward to it."
Open Wednesdays through Mondays, hours are noon to 8 p.m. Mondays, Wednesdays, Thursdays and Sundays, noon to 9 p.m. Fridays and Saturdays. It runs through Sunday, Dec. 30.
Marco Espitia, M&M Entertainment & Productions co-founder, said they're excited to continue having the Enchanted Christmas Tour of Lights in Prescott.
"I think the location, downtown, is going to be great," Espitia said.
Brassard said that there are some people who were never able to make it up to the mall who might find this new location better suited to them. Additionally, it makes a good complement to enjoying all the events downtown this holiday season including the Christmas parade, courthouse lighting and Acker Night, he said.
Enchanted Christmas Tour of Lights is able to get anyone into the holiday spirit, no matter their age, and there's something for everyone, Brassard said.
"Maybe they're out last-minute shopping or they hate having to holiday shop or whatever," he said. "They go through and they get in the spirit."
Admission is $5, or $4 if someone brings a canned food or toy donation. The donations will go to Yavapai Food Bank, and Brassard said he believes about 17 tons was donated last year.
For more information about the Enchanted Christmas Tour of Lights, visit www.enchantedchristmasaz.com or call 1-800-651-8006.
SUBMIT FEEDBACK
Click Below to:
More like this story