Generosity doesn't need a big wallet
CCJ shelter clients' gift to four-year-old proves a priceless lesson

By
Nanci Hutson
|
HutsonNanci
Originally Published: November 21, 2018 10:20 p.m.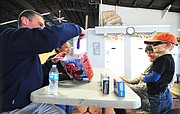 A four-year-old boy. A lost Lego piece. A homeless couple.
Seemingly random, yet forever linked because of a simple gesture of generosity, one the mother of Prescott preschooler Gabe Repak is confident will reverberate as a never-to-be-forgotten life lesson.
"Everybody just responded with hearts wide open," declared Gabe's mother, Colleen McHorney.
The family lives behind the Coalition for Compassion and Justice' Madison Avenue shelter complex.
The connections between Gabe and one homeless couple started a couple weeks ago when the boy lost a piece to his Batman Joker Lego set.
Gabe asked his mother to help him find it. Instead, as a lesson, his mother said she encouraged him to retrace his steps and reach out to others who might be able to help in his search.
McHorney said she wanted to model to her son an "opportunity to ask for support."
So the two walked the trails near their house. They stopped a few people walking their dogs to ask if they might have spotted the piece, one described as looking like a small flag with orange and yellow colors. Every person her son conjured the courage to speak to smiled and agreed to keep a look out, McHorney said.
The lesson to her son: "We get connected when we reach out," she said.
The same applied to the shelter.
Though she knew it was unlikely he lost the piece there, McHorney said she suggested she and her son ask some of those guests who frequent the trails and surrounding neighborhood to help in the search.
"We were on a mission," McHorney said.
The reception went far beyond her expectations.
They first encountered a "nice man" sitting on a bench outside who said he'd be happy to spread the word, McHorney said. The two then stopped into the kitchen.
Gabe's tale of childhood woe not only caught the attention of Kitchen Manager Christine Fite, but also one of her crew, shelter client Stephanie Andrade, 37.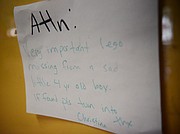 Fite posted two notices about the missing Lego piece, one in the front window and one in the kitchen. "Very important Lego missing from sad little 4-year-old boy. If found turn into Christine," the notice read.
Andrade and her partner, Jason Brock, 36, the parents of two young children temporarily living with out-of-state relatives while they put their lives back together, went beyond simply looking for the piece. They walked to the local Dollar Tree store at least a mile or so away where they spent just under $10 to buy Gabe four My Blox Construction toys – a fire helicopter, a fireman on an ATV, a city patrol car and a super tank. They then put them all in a Spiderman gift bag with a bag of gummy candies.
"We have kids. We know how it is," Brock said. "We really looked (for Gabe's missing Lego), and were sorry we couldn't find it. But we did find these."
The couple then gave the bag to Fite to deliver to Gabe. They wanted no recognition.
"When we see something we can do to help, we want to," Andrade said.
Fite, though, was so impressed with the couple's good deed she felt it deserved a bit of a celebration.
"This is awesome," Fite said.
Gabe's mother concurred - she arranged to bring Gabe to open his gift and thank the strangers-turned-friends.
At first a bit shy in front of the couple, his eyes hidden behind a pair of sunglasses, Gabe slowly opened the bag. As Gabe pulled out one box, then another, he took off his sunglasses. His facial expression turned from quizzical to ecstatic.
His mother was equally exuberant.
"It's just so heartwarming," McHorney exclaimed with a clap as she watched her blonde-haired son stack up the box of new toys she suspects will become his new favorites.
In this season of giving, CCJ Executive Director Jessi Hans said Andrade and Brock's spontaneous act of charity is an example to everybody.
"I'm always in awe of how the folks here come through for other people," Hans said. "In the midst of hardship, most of our clients find heart and resources to care for others in the most heartwarming ways."
From the moment Andrade and Brock arrived at the shelter, Hans said the couple has been nothing but grateful. They are always seeking out ways to be of help not only to themselves but to others. She said she can count on Brock to tease or joke with her as she makes her rounds throughout the day.
She said she finds it remarkable that at a "desperate moment in their lives" this couple retains such a "spirit of hope and happiness."
A four-year-old boy. A lost Lego piece. A homeless couple.
The unlikely connection: Priceless.
"Humanity is everywhere. In the darkest places we can find capacity to care," Hans concluded. "It's just so stinking cool."
Follow Nanci Hutson on Twitter @HutsonNanci. Reach her at 928-445-3333 ext. 2041.
More like this story
SUBMIT FEEDBACK
Click Below to:
This Week's Circulars
To view money-saving ads...