Christmas Lighting Contest returns with large cash prizes
Submit your address, photos for lights list; public to vote for winners
Originally Published: November 21, 2018 10:20 p.m.
The Daily Courier's Christmas lighting list and contest is back and bigger than ever.
The cash prizes for 2018 are a whopping: $1,500 for first place, $1,000 for second, and $500 for third!
The Courier had a long run of conducting the contest about 10 years ago, and now it is back as the "Courier Cares Christmas Lighting Contest."
"Everyone loves seeing the Christmas lights and the contest was always very popular," said Lew Rees, events and marketing director for Prescott News Network (PNN). "We love Prescott as 'Arizona's Christmas City' and the contest helps with that across the quad-city area, and maybe even motivates people to share the spirit of the season."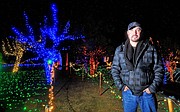 The cash prizes, this year sponsored by R.E.D. Plumbing, are six times greater ever before. The last time the Courier staged the contest the largest prize was $250.
And, with Thanksgiving kicking off the holiday season today, Nov. 22, is the perfect day to launch the contest, said Tim Wiederaenders, senior news editor for PNN and The Daily Courier.
The Courier is compiling the list of homes displaying Christmas decorations; for a complete list of the rules, visit CourierContest.com (they also are listed at the end of this story).
As in the past, the public will get to vote online for the prize winners. And, an interactive map will be available for free on The Daily Courier's website – dCourier.com. As entries are submitted they will be added to the map.
The contest is open to everyone in western Yavapai County. The Courier urges everyone to enter, whether they're interested in the prizes or not, so readers will have plenty of homes to view, Wiederaenders said.
To put your home's address on the list, visit CourierContest.com beginning today, Nov. 22. The Courier will make the map available beginning Friday, Nov. 30, and will update it as entries are submitted. The deadline for entries will be noon Wednesday, Dec. 12.
Then, the voting begins at noon Thursday, Dec. 13. Visitors to links at dCourier.com will direct people to the voting website to cast their votes. Voting ends at noon Thursday, Dec. 20, and the winners will be announced on dCourier.com and in The Daily Courier with a story and photos on Christmas Day.
"This will give people a good period of time to view the displays and then vote," Rees said, adding that to submit an entry people will need to complete the form as accurately and detailed as possible – especially contact information.
All entries must include the full address, the nearest cross street on each side of the house, a brief description of the décor, hours when your light display generally is turned on, your name, and phone numbers where the Courier can reach you during the day.
The Courier will not publish any phone numbers. Please list your name as you would like it to appear on the online map and in the newspaper, e.g., "Bob and Carol Smith."
In addition, the Courier is urging people to send photos of their homes, which also will be displayed online, so entrants have a better chance of winning. Many readers might choose winners based only on photos, Wiederaenders said. Send the high-resolution photos through the online form, email them to twieds@prescottaz.com, or mail prints directly to Tim Wiederaenders, c/o The Daily Courier, 8307 E. Highway 69, Suite B, Prescott Valley, AZ 86314. Photos will not be returned.
COURIER CARES CHRISTMAS LIGHTING CONTEST RULES
• No purchase is necessary. You need not be a Daily Courier print or online subscriber to enter.
• The submitting party must be at least 18 years old and a resident of Yavapai County, Arizona.
• Western News&Info Inc. employees, Prescott News Network employees, independent contract carriers for WNI and PNN, and all their immediate families are not eligible to enter.
• This contest is for homes in the quad-city area, not businesses. Only homes will be eligible for voting; however, the Courier will place the businesses on the map of displays for viewing.
• By submitting a contest photo you grant publishing rights to Prescott News Network and agree to the photo release terms below. No professional photos will be allowed. The submitting party must be the copyright holder of the photograph.
• We will not accept any digitally altered images (heavily modified images, text, etc.). No business logos or signs in the background please. We also will not accept photos that include people; displays only.
• Entries must be a jpeg, eps, png or tiff digital photo; no paper photocopies please. PNN will not be responsible for late or misdirected voicemail messages, or for online entries that are corrupted or otherwise not received because of technical malfunction of computer hardware or software, networks, transmission lines or servers.
• All photographic images and written materials in The Daily Courier and dCourier.com cannot be reproduced without prior written consent from Prescott News Network.
• Reasonable facsimiles of the online entry form will be accepted along with a disposable CD containing the digital photo file; CDs will not be returned. You may enter at:
or mail or deliver it to: The Daily Courier, 8307 E. Highway 69, Suite B, Prescott Valley, AZ.
• Entries must be received by noon Dec. 12, 2018. Phone number must be present on entry form to win.
• Readers of dCourier.com will choose only one winner for each of the three cash prizes – First place ($1,500), Second place ($1,000) and Third place ($500).
• Voting will begin at noon Dec. 13, 2018.
• The placings, which will be determined by the website voting, will be final. The software will allow only one vote per unique IP address.
• Offer void where prohibited by law.
• Voting will end at noon Dec. 20, 2018.
• PNN will notify winners by phone and announce them in The Daily Courier and on dCourier.com. The Daily Courier will photograph and feature the winners.
Photo Release: By submitting photographs or other creative works for this contest through dCourier.com or using the printed form you are granting Prescott News Network and The Daily Courier a nonexclusive license to publish, copy and distribute that submitted content. You grant Prescott News Network and The Daily Courier permission to publish and republish your submitted content without restriction, in all formats and media now known or hereafter developed, including but not limited to all electronic rights.
For more information, call Senior News Editor Tim Wiederaenders at 928-445-3333, ext. 2032 or email twieds@prescottaz.com.
Related Stories
More like this story
SUBMIT FEEDBACK
Click Below to: