Heritage Park Zoo fire causes $10K in damage; 4 wallabies survive

Originally Published: November 20, 2018 3:05 p.m.
The morning after firefighters were called to the scene of a two-structure fire in Prescott, staff members of the Heritage Park Zoo were left picking up the pieces and assessing the damage Tuesday.
Fire Marshal Don Devendorf said one structure was a total loss, and another similar structure next to it received "significant damage," according to a statement provided by the Prescott Fire Department.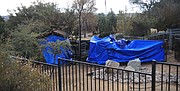 The damage is estimated upwards of $10,000 to the two buildings and their contents.
Pam McLaren, executive director of the Heritage Park Zoological Society, said the adjoining structures were 5-foot by 7-foot and 8-foot by 10-foot in size and are used as donkey and wallaby night houses.
At approximately 6:10 p.m. Monday, firefighters responded to a building on fire at the Heritage Park Zoo off Willow Creek Road on the north side of Prescott. Three engine companies, a truck company and Battalion Chief Dan Morgan were dispatched along with an ambulance and other support personnel.
Units responding could see the flames upon their arrival, and zoo employees were manning the gate to assure animals could not escape the park.
There were also reports via phone calls and emails to The Daily Courier late Monday night of several volunteers who rushed to the zoo to help assist in evacuating animals.
There were no injuries to firefighters or civilians, but one wallaby died and one was severely injured.
"Unfortunately, one wallaby was not able to escape the fire and perished," Devendorf said. "Another one was removed from the structure with significant injuries, and with the assistance of zoo personnel, was taken to one of our engines and administered oxygen using equipment known as 'Fido Bags.'"
The injured wallaby was taken to Prescott Animal Hospital by a veterinarian and was doing much better Tuesday morning, McLaren said.
"The wallabies may be off display until the end of the month due to current planned events as well as time and staff constraints," McLaren said.
The Courier reported the cause of the fire to be a heat lamp late Monday night, and Devendorf's investigation confirmed the only source of ignition possible was the lamp used inside the structure to keep the animals warm.
"Zoo employees were urged to check all the other heating appliances in the zoo to assure that they were in good working order and not near any combustibles," Devendorf said.
The zoo and its exhibits opened at the normal 10 a.m. time Tuesday morning.
Brian M. Bergner Jr. is news/sports editor for The Daily Courier of Prescott News Network. Follow him on Twitter, Facebook, Instagram and SoundCloud at @TheEditorDesk. Email bbergner@prescottaz.com or call 928-445-3333, ext. 1106.
Related Stories
More like this story
SUBMIT FEEDBACK
Click Below to: