5 key takeaways from forum on overdose epidemic

Originally Published: November 20, 2018 8:31 p.m.
To view the forum
• Log into http://pvaz.granicus.com/player/clip/2539?view_id=8
• Watch on Channel 56 at 3 p.m. Friday, Nov. 23, 8 p.m. Saturday, Nov. 24, and 6 p.m. Sunday, Nov. 25.
To help the public better understand the opioid issues plaguing the quad-cities area, the Prescott Valley Police Department hosted a community forum Monday, Nov. 19, at the Prescott Valley Library.
Attendees packed the room, and the 90-minute program was streamed on social media.
As of Tuesday morning, Nov. 20, more than 1,000 people had viewed the program.
Here are some key takeaways from the forum:
1) Number of opioid-related overdose deaths in Yavapai County by municipality:
In 2017, there were 40 total opioid overdoses in Yavapai County, said Leslie Horton, director of Yavapai County Health Services. Those were a mix of suicide, accidental or undetermined that included opioids in the autopsy report. Of those, 23 were in Prescott, 14 were in Prescott Valley and three were in Chino Valley.
For the first half of 2018, there were about 14 opioid-related overdoses in the county.
"We're right on target for about the same number of overdoses as we saw last year," Horton said. "I have to say, 40 deaths due to drugs is a staggering amount for one year in our county."
2) Most of the fentanyl-laced drugs so far found in the quad-city area by Partners Against Narcotics Trafficking (PANT) have come in the form of small blue pills with M imprinted on one side and 30 imprinted on the other.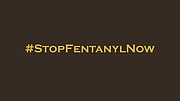 "I would say 90 percent of the overdoses that we've had involving fentanyl have been from these pills here," PANT Sgt. Jeremy Martin said about the mimic pills sometimes referred to as Perc 30s. "So I urge all of you, if you have kids and family, if you see these ones, they're not going to be exactly the Percocet or the OxyContin that the doctor prescribed; you're going to be able to tell."
However, the drug is likely to change in form as drug suppliers adapt to law enforcement's pursuit of the drug, Martin said. In a recent PANT bust, fentanyl was also found in a red capsule.
"We're always playing catch up," Martin said.
He wouldn't be surprised if the drug started looking like an over-the-counter ibuprofen or Tylenol in the near future, he said.

3) Youth aren't the primary users of opioids. Between 2008 and 2016, there has been a 53 percent reduction in youth use of prescription drugs, according to the Arizona Youth Survey.
Of those in Arizona who are overdosing on opioid drugs, only about 15 percent are showing to be under 25 years old, said Leslie Horton, the director of Yavapai County Health Services.
"The primary age group that we're most concerned about are the 25- to 34-year-olds," Horton said.
However, it is important to educate youth about the dangers of drugs before they start experimenting with substances or reach that high-risk age group, she said.
4) Naloxone, a substance used to treat narcotic overdoses, can be acquired for free at a number of locations in the quad-city area.
The primary provider of free naloxone kits is Sonoran Prevention Works. The statewide organization has a location at 154 E. Merritt St. in Prescott.
"We are the largest naloxone distributors in the state, and most places that distribute naloxone are distributing it through us," said Turiya Coll, Northern Arizona Overdose Prevention Coordinator.
Coll recommends calling her at 928-299-9443 before visiting the Prescott location just to ensure someone is there to provide you with the free naloxone kit.
"We're not going to ask any questions except for, do you know how to use this?" she said.
MATFORCE, 8056 E. Valley Road, Ste. B, in Prescott Valley, also carries a number of the kits.
Yavapai County Community Health Services carries them as well at their three primary locations: 1090 Commerce Drive in Prescott, 3212 Windsong Drive in Prescott Valley, and 10 S. 6th St. in Cottonwood.
5) If you believe someone is experiencing an overdose from some form of drug, call 911.
"Don't be afraid to be the one to call for help, because you're going to save a life," said Central Arizona Fire and Medical Authority EMS Captain Doug Niemynski.
The Arizona Legislature recently passed a law making is so that police cannot use any evidence of drugs found at the scene of a suspected overdose against the individual who called them, or the victim, said Prescott Valley Police Department Deputy Chief James Edelstein.
---
Sign up for our e-News Alerts
SUBMIT FEEDBACK
Click Below to: