Dunkin' Donuts breaks ground in Prescott Valley
Expected to open by March or April 2019

By
Max Efrein
|
mefrein
Originally Published: November 17, 2018 7:05 p.m.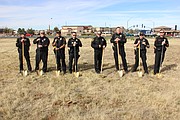 The long awaited opening of Dunkin' Donuts in Prescott Valley is on its way – and this time it's official.
During a groundbreaking event hosted Wednesday, Nov. 14, it was announced that the location will likely be done in about four months' time.

"The only caveat there is weather," said Andy Goforth, owner of Verde Building Corporation, which is handling the construction for the site.
Town employees, council members, developers and, yes, police officers showed up at the planned construction site on the corner of Glassford Hill Road and Centre Court eager for details on the anticipated opening.
"I think it goes without saying we're looking forward to seeing you," Prescott Valley Police Chief Bryan Jarrell said to Dunkin' Donuts franchisee Paul Faust.
"Being an elected official, I got picked on all year that this was a myth," said Prescott Valley Vice Mayor Lora Lee Nye. "The emails, telephone calls, they just kept coming in with people saying 'Why are you teasing us? Why are you lying?' We're not!"
The project was originally believed to be done by late 2017, but several changes to the development plans kept pushing the date.
"I apologize for the delay, that's probably my fault," Faust said. "We added a Baskin Robbins to this location, which changed some things up, and then we split up the building a little bit, which created a delay."
The design includes two buildings with a fireplace feature in between, Goforth said.
One of the buildings will house Dunkin' Donuts and Baskin Robbins, and the other building will host a Mod Pizza outlet, which specializes in design-your-own individual pies.
By the time it opens, Dunkin' Donuts will have dropped Donuts from its name and simply be Dunkin', a rebranding that officially takes effect January 2019 and will be reflected in the PV location's signage.
Fans have no need to panic, however, for the food chain will continue to serve doughy morsels. The only changes to its menu will be an expansion of its drink options and a greater grab-and-go selection, such as bottled beverages, bananas, mini oranges, applesauce and granola.
See related story on our sister site, verdenews.com: Dunkin' Donuts coming to Cottonwood
More like this story
SUBMIT FEEDBACK
Click Below to: