The why behind little free libraries
Books constantly rotating at El Gato Azul location

Originally Published: November 16, 2018 8:29 p.m.
When she moved into her home at 2050 Victoria Drive, Candace Lea said she found a Little Free Library on the road in front of the house.
"I painted it and made it pretty because I love books and I write books," Lea said. "I'm a children's author … I wrote 'Pickles the Blue-eyed Javalina."
Lea's Little Free Library is one of more than 75,000 libraries across 88 countries. The concept started in 2009 when Todd Bol of Wisconsin built one in the form of a one-room schoolhouse as a tribute to his mother. These days, according to www.littlefreelibrary.org, Little Free Library is a nonprofit organization inspiring a love of reading, building community and sparking creativity. Anyone can stop by a Little Free Library, pick up a book, take it home and read it and are encourage to return it or add a new book. Millions of books are exchanged each year and provide access to books for readers of all ages and backgrounds.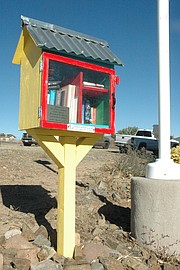 Bol passed away earlier this year.
There's even one in front of El Gato Azul, put up by owner Barry Barbe. He got the idea to put one up when one of his servers was looking for someone to make one for her mother. He wanted one too, Barbe said.
"I thought it was a really cool concept," he said. "We probably rotate through a couple hundred books a week."
Barbe said his location started with about 20 books and people will come by all the time. Some come every other day, some come every week and he gets books from all over the country, he said. This particular Little Free Library is also a geocache location, Barbe said.
He said he has a pile of books and if the volume gets low, they'll put some in there. However, that doesn't happen all that often.
"For the most part, people are pretty good about exchanging them," Barbe said.
El Gato Azul is located at 316 W. Goodwin St.
Lea said that one time, someone came by and took a lot of books without leaving a lot of books. So she went on social media and asked if anyone had books to donate.
"Now it's a little bit fuller," she said.
There's a mix of children's and adults books in Lea's Little Free Library and she does like to promote the kids' books.
"I put some of my own in there every once in a while," she said.
For more information about Little Free Libraries, or to find out how to start one, visit www.littlefreelibrary.org.
Where are the Little Free Libraries?
The Little Free Libraries located outside of El Gato Azul, 316 W. Goodwin St. and Candace Lea's home, 2050 Victoria Drive, are only two of many in the tri-city area.
So where are others?
Prescott
• 3626 Crossings Drive
• Peppertree Park, 215 W. Delano Ave
• 910 Stevens Drive
• 43 Woodside Drive
• 201 Park Ave.
• 902 S. Yuma Road
• Canyon Drive
• Joseph Street
• 309 S. Washington Drive
• 660 Eastwood Drive
• Robinson Drive
Prescott Valley
• Central Arizona Fire & Medical Authority Station 59, 6401 N. Viewpoint Drive
• Culver's, 2544 N. Stoneridge Dr.
Chino Valley
• Corner of Road 2 South and Reed Road
• Quail Ridge Park, 2725 W. Gambels Ridge Drive
• Road 2 South Fire Station, 730 E. Road 2 South.
Elsewhere in Yavapai County
• Tonto Ridge Road (Williamson)
• 5881 E. Walker Road (Walker)
More like this story
SUBMIT FEEDBACK
Click Below to:
This Week's Circulars
To view money-saving ads...