Arizona Community Foundation of Yavapai County's Joy of Giving honored local philanthropists and nonprofit organizations
Originally Published: November 16, 2018 7:11 p.m.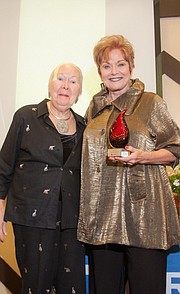 The Arizona Community Foundation of Yavapai County announced the recipients of its 2018 Joy of Giving Awards at the annual luncheon on Friday, August 10. The awards pay tribute to the contributions of individuals and organizations who make Yavapai County a great place to live.
Local resident Mike Fann was recognized as Philanthropist of the Year for his long history of supporting community development and nonprofit organizations in Yavapai County. His company's employee giving program, Fann Employees Making a Difference (FEMAD) enables Mike to share his philanthropic commitment to the community with his employees. The program was recognized by ACF's Pakis Center for Business Philanthropy in 2017, when Fann Contracting received a $40,000 BOOST! Prize. Mike used the prize money to give eight other local companies the opportunity to develop their own employee giving programs. Since its inception, FEMAD has given nearly $500,000 to local nonprofits.
"Mike Fann is a true philanthropist," said Carol Chamberlain, Regional Director of ACF of Yavapai County. "His footprint is on just about every civic and nonprofit organization in this county. He is humble, caring and truly deserving of this great honor."
The Community Leadership Award was presented to Prescott Frontier Rotary for their summer reading and math program offered to Kindergarten through fourth grade students in the Prescott Unified School District. The program, now known as the 21st Century Grant Summer Program, was used as an example of community philanthropy by Rotary International.
Gerda Samuels was the recipient of the Power of You Award for the impact she has made voluntarily assisting military personnel.
Gerda is the humble powerhouse behind "From Home with Love," an initiative that sends packages to American soldiers overseas. Gerda and her group of volunteers send over 100 packages every month, symbolizing the "Power of You" in our community and in the lives of each soldier who receives one of her packages.
Through the 2018 competitive grants process, ACF of Yavapai County awarded nearly $500,000 to 60 local community projects. Nonprofit organizations of all kinds serving Yavapai County residents were invited to submit proposals, which were vetted by local volunteers through grant panels.
"We are delighted the grants made to local nonprofit organizations will help meet community needs," said Dawn Wasowicz, Vice Chair of ACF of Yavapai County's Board of Advisors. "The process used to make these decisions is well-thought-out. The funded projects will make our county a better place and I am proud to be part of this great organization."
To learn more about the organizations and projects supported through the 2018 competitive grants process, contact Regional Philanthropic Advisor Lisa Sahady at LSahady@azfoundation.org or call 928-583-7815. To establish a named fund or contribute your own assets to annual grant making efforts, contact Regional Director, Carol Chamberlain, at CChamberlain@azfoundation.org or call 928-583-7816.
More like this story
SUBMIT FEEDBACK
Click Below to:
This Week's Circulars
To view money-saving ads...