Now Playing: Nov. 16, 2018
Originally Published: November 15, 2018 10:21 p.m.
(NEW) FANTASTIC BEASTS: THE CRIMES OF GIRNDELWALD – In an effort to thwart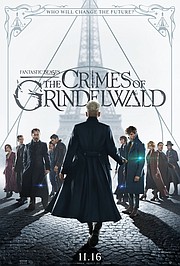 Grindelwald's plans of raising pure-blood wizards to rule over all non-magical beings, Albus Dumbledore enlists his former student Newt Scamander, who agrees to help, unaware of the dangers that lie ahead. Lines are drawn as love and loyalty are tested, even among the truest friends and family, in an increasingly divided world. Stars Eddie Redmayne, Katherine Waterston, Dan Fogler, Alison Sudol, Ezra Miller, Zoë Kravitz, Callum Turner, Claudia kim, William Nadylam, Kevin Guthrie, Jude Law, Johnny Depp. PG-13 – drama, fantasy
(NEW) INSTANT FAMILY – When Pete and Ellie decide to start a family, they stumble into the world of foster care adoption. They hope to take in one small child, but when they meet three siblings, including a rebellious 15-year-old girl, they find themselves speeding from zero to three kids overnight. Now, Pete and Ellie must try to learn the ropes of instant parenthood in the hope of becoming a family. Stars Mark Wahlberg, Rose Byrne, Octavia Spencer. PG-13 – Comedy
(NEW) WIDOWS – A police shootout leaves four thieves dead during an explosive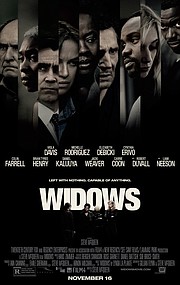 armed robbery attempt in Chicago. Their widows -- Veronica, Linda, Alice and Belle -- have nothing in common except a debt left behind by their spouses' criminal activities. Hoping to forge a future on their own terms, Veronica joins forces with the other three women to pull off a heist that her husband was planning. Stars Viola Davis, Michelle Rodriguez, Elizabeth Debicki, Cynthia Erivo, Colin Farrell, Brian Tyree Henry, Daniel Kaluuya, Jacki Weaver, Carrie Coon, Robert Duvall, Liam Neeson. R – drama, mystery
(NEW) CAN YOU EVER FORGIVE ME – Celebrity biographer Lee Israel makes her living profiling the likes of Katharine Hepburn, Tallulah Bankhead, Estee Lauder and journalist Dorothy Kilgallen. When Lee is no longer able to get published because she has fallen out of step with current tastes, she turns her art form to deception, abetted by her loyal friend Jack. Stars Melissa McCarthy, Richard E. Grant. R – drama, thriller
(NEW) A PRIVATE WAR – Celebrated war correspondent Marie Colvin is a woman who is
as comfortable downing martinis with high society's elite as she is brazenly staring down warlords and fleeing from gunfire. Driven by an enduring desire to bear witness and give voice to the voiceless, Colvin charges into danger, constantly testing the limits between bravery and bravado. Stars Rosamund Pike, Jamie Dornan, Tom Hollander, Stanley Tucci. R – drama, war
Also showing:
OVERLORD – On the eve of D-Day, American paratroopers drop behind enemy lines to penetrate the walls of a fortified church and destroy a radio transmitter. As the soldiers approach their target, they soon begin to realize that there's more going on in the Nazi-occupied village than a simple military operation. Making their way to an underground lab, the outnumbered men stumble upon a sinister experiment that forces them into a vicious battle against an army of the undead. Stars Jovan Adepo, Wyatt Russell, Mathilde Ollivier, Mohn Magaro, Gianny Tuafer, Pilou Asbæk, Bokeem Woodbine. R – drama, thriller
THE GIRL IN THE SPIDER'S WEB – Fired from the National Security Agency, Frans Balder recruits hacker Lisbeth Salander to steal FireWall, a computer program that can access codes for nuclear weapons worldwide. The download soon draws attention from an NSA agent who traces the activity to Stockholm. Further problems arise when Russian thugs take Lisbeth's laptop and kidnap a math whiz who can make FireWall work. Now, Lisbeth and an unlikely ally must race against time to save the boy and recover the codes to avert disaster. Stars Claire Foy, Sverrir Gudnason, LaKeith Stanfield, Sylvia Hoeks, Stephan Merchant. R – drama, thriller
THE GRINCH – The Grinch and his loyal dog, Max, live a solitary existence inside a cave on Mount Crumpet. His main source of aggravation comes during Christmastime when his neighbors in Whoville celebrate the holidays with a bang. When the Whos decide to make Christmas bigger and brighter, the disgruntled Grinch realizes there is one way to gain peace and quiet. With help from Max, the green grump hatches a scheme to pose as Santa Claus, steal Christmas and silence the Whos' holiday cheer once and for all. Stars Benedict Cumberbatch, Rashida Jones, Kenan Thompson, Cameron Seely, Angela Lansbury. PG – fantasy, musical
THE NUTCRACKER AND THE FOUR REALMS – Young Clara needs a magical, one-of-a-kind key to unlock a box that contains a priceless gift. A golden thread leads her to the coveted key, but it soon disappears into a strange and mysterious parallel world. In that world, she meets a soldier named Phillip, a group of mice and the regents who preside over three realms. Clara and Phillip must now enter a fourth realm to retrieve the key and restore harmony to the unstable land. Stars Kiera Knightley, Mackenzie Foy, Eugenio Derbez, Matthew Macfadyen, Richard E. Grant, Misty Copeland, Helen Mirren, Morgan Freeman. PG – drama, fantasy
BOHEMIAN RHAPSODY – Bohemian Rhapsody is a foot-stomping celebration of Queen, their music and their extraordinary lead singer Freddie Mercury. Freddie defied stereotypes and shattered convention to become one of the most beloved entertainers on the planet. The film traces the meteoric rise of the band through their iconic songs and revolutionary sound. They reach unparalleled success, but in an unexpected turn Freddie, surrounded by darker influences, shuns Queen in pursuit of his solo career. Having suffered greatly without the collaboration of Queen, Freddie manages to reunite with his bandmates just in time for Live Aid. While bravely facing a recent AIDS diagnosis, Freddie leads the band in one of the greatest performances in the history of rock music. Queen cements a legacy that continues to inspire outsiders, dreamers and music lovers to this day. Stars Rami Malek, Lucy Boynton, Gwilym Lee, Ben Hardy, Joseph Mazzello, Aidan Gillen, Tom Hollander, Mike Myers. PG-13 – drama, biography
INDIVISIBLE – Fresh out of the seminary and basic training, Army chaplain Darren Turner receives orders to deploy to Iraq, leaving his wife behind to care for their three young children. The harsh realities of war soon take their toll on Turner and his battalion, making it hard to stay connected to his beloved family. When Darren finally comes home, the Turners must decide if they're willing to face one more battle -- the fight to save their marriage. Stars Justin Bruening, Sarah Drew, Jason George, Tia Mowry-Hardrict, Skye P. Marshall. PG-13 – drama
HUNTER KILLER – Deep under the Arctic Ocean, American submarine Captain Joe Glass is on the hunt for a U.S. sub in distress when he discovers a secret Russian coup is in the offing, threatening to dismantle the world order. With crew and country on the line, Captain Glass must now assemble an elite group of Navy SEALs to rescue the kidnapped Russian president and sneak through enemy waters to stop WWIII from beginning. Stars Gerard Butler, Gary Oldman, Common, Linda Cardellini, Toby Stephens. R – thriller, action
THE OLD MAN & THE GUN – At the age of 70, Forrest Tucker makes an audacious escape from San Quentin, conducting an unprecedented string of heists that confound authorities and enchant the public. Wrapped up in the pursuit are detective John Hunt, who becomes captivated with Forrest's commitment to his craft, and a woman who loves him in spite of his chosen profession. Stars Robert Redford, Casey Affleck, Danny Glover, Tika Sumpter, Tom Waits, Sissy Spacek. PG-13 – crime, comedy
FIRST MAN – The story of NASA's mission to land a man on the moon, focusing on Neil Armstrong and the years 1961-1969. Stars Ryan Gosling, Claire Foy. PG-13 – drama, history
A STAR IS BORN – Seasoned musician Jackson Maine discovers -- and falls in love with -- struggling artist Ally. She has just about given up on her dream to make it big as a singer until Jackson coaxes her into the spotlight. But even as Ally's career takes off, the personal side of their relationship is breaking down, as Jackson fights an ongoing battle with his own internal demons. Stars Bradley Cooper, Lady Gaga, Andrew Dice Clay, Dave Chappelle, Sam Elliott. R – drama, romance
VENOM – Journalist Eddie Brock is trying to take down Carlton Drake, the notorious and brilliant founder of the Life Foundation. While investigating one of Drake's experiments, Eddie's body merges with the alien Venom -- leaving him with superhuman strength and power. Twisted, dark and fueled by rage, Venom tries to control the new and dangerous abilities that Eddie finds so intoxicating. Stars Tom Hardy, Michelle Williams, Riz Ahmed, Scott Haze, Reid Scott. PG-13 – thriller, fantasy.
More like this story
SUBMIT FEEDBACK
Click Below to: