It's a Wonderful Life with One Stage Family Theatre

Originally Published: November 15, 2018 10:06 p.m.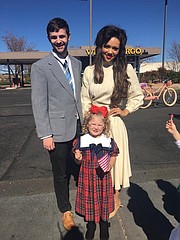 George Bailey will get three doses of what would happen to Bedford Falls had he never existed this weekend with One Stage Family Theatre's "It's a Wonderful Life" live radio play.
These three shows diverge from the usual one the organization puts on when it's at the Elks Theatre and Performing Arts Center, but they wanted to open it up more to people who say they can't make the one day, said One Stage Family Theatre's Tamee Niekamp.
"We're kind of trying this out as experimental to see how it goes," Niekamp said. "Having todays, three shows."
There are two shows at 2 and 7 p.m. Saturday, Nov. 17, at one show at 2 p.m. Sunday, Nov. 18, all of which are at the Elks Theatre and Performing Arts Center, 117 E. Gurley St.
Doing a radio play instead of a traditional performance is interesting and different but enjoyable at the same time, Niekamp said. They haven't really done formal rehearsals because the script doesn't call for them, she said. Rather, the script is on stage and the actors read from it as if they were actually on the radio. It's been difficult for some of the actors who are so used to traditional acting, but it's been working out really well, Niekamp said.
Originally, there's only five people playing a bunch of different parts, but this show will have 33 people in the cast where all these different characters come on and off the stage, she said. Some of the kids are singing and dancing in two different commercials as well, Niekamp said.
Tickets are $20 for adults and $15 for seniors and students and available online at www.prescottelkstheater.com, by calling 928-777-1370 or at the door one hour prior to the performance. Coming means supporting community theater and seeing a great story, Niekamp said.
"It kind of makes you think what would happen if you weren't here, how many lives you touch," she said.
While this is the last show of the year for One Stage Family Theatre, preparations are already in the works for next year. Auditions for the organization's March show, "The Wizard of Oz," are Sunday Dec. 16 from 2 to 4 p.m. or 6 to 8 p.m. at Lessons by Lexe: Dance Studio, 3250 Gateway Blvd, Suite 206. It's a classic show that hasn't been done in the area for quite a while, Niekamp said.
For more information about One Stage Family Theatre, visit www.facebook.com/onestagefamilytheatre.
More like this story
SUBMIT FEEDBACK
Click Below to:
This Week's Circulars
To view money-saving ads...