Distracted driver collides with truck on Highway 69
Driver admits to cellphone use while driving, not cited despite county ban

By
Max Efrein
|
mefrein
Originally Published: November 15, 2018 9:38 p.m.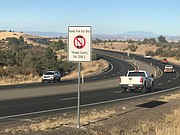 A crash on Highway 69 and Robin Drive Wednesday afternoon, Nov. 14, could have been a lot worse had airbags not deployed and drivers not been wearing their seatbelts, officials said.
Initial units arrived on scene at around 2 p.m. to find three vehicles involved, two with heavy damage, said Prescott firefighter and paramedic Jeff Jones.
"Two of the patients were treated for relatively minor injuries and released," Jones said. "The vehicles' safety equipment, including a combination of the seatbelts and airbags, were critical in helping these patients survive this accident relatively uninjured."
The accident was the result of a Honda failing to stop at a traffic light on Highway 69 and ramming the back of an SUV, said Arizona Department of Public Safety (AZDPS) Trooper James Carne. The Honda then struck a Ford pickup that was stopped for the light on Robin Drive.
"The driver of the Honda admitted to being distracted by her cellphone," Carne said.
The woman told officials she was using the phone manually rather than hands-free.
Since the accident took place on county land, the driver could have been cited for violating ordinance 2018-2, which went into effect Nov. 2 and explicitly states "A person shall not drive a motor vehicle while holding in his or her hand, typing on or otherwise manually operating a portable communications device." Yavapai County was the third county in the state to pass such an ordinance.
A violation of ordinance 2018-2 could result in a $100 penalty, plus other assessments and surcharges. If the violation results in a crash — such as in this case — the penalty could be as much as $250.
However, Carne said no such citation was issued. Why exactly that is wasn't made clear by AZDPS.
"It appears the driver was cited for not wearing a seatbelt and failing to control their vehicle's speed to avoid a collision, which are both state violations," he said.
Neither AZDPS nor the Yavapai County Sheriff's Office (YCSO) has yet to issue a citation using the new ordinance in Yavapai County.
Speaking for YCSO, public information officer Dwight D'Evelyn said they are currently in "a warn-and-educate mode."
That does not mean, however, that drivers are immune from receiving ordinance 2018-2 citations at this time.
"We want people to know that if you're driving in Yavapai County, you can and will be cited," said Yavapai County spokesperson David McAtee.
As it stands, the City of Prescott and the Town of Chino Valley have passed similar laws, both of which are set to take effect Jan. 1, 2019.
The governing councils for the towns of Prescott Valley and Dewey-Humboldt are talking about implementing measures as well.
Dewey-Humboldt Town Manager Tom Wilson believes his town's council will approve the measure at its upcoming meeting on Tuesday, Nov. 20. While he supports the local effort, he believes that the law will only be truly effective if something like it is enacted for the entire state.
"It can work, but it needs to become uniform across the state," Wilson said. "It doesn't help if it's different in varying parts of the state."
McAtee agrees.
"Ultimately, the goal is to get a statewide ordinance," he said. "We believe that if enough counties, cities and towns get on board and enact their own ordinances, then the state will follow. You shouldn't — no matter where you are — have to worry about whether it's against the law or not. You just shouldn't do it. We know distracted driving causes accidents. It's just common sense."
More like this story
SUBMIT FEEDBACK
Click Below to:
This Week's Circulars
To view money-saving ads...