$45,000 from D-backs revamps Meals on Wheels kitchen
AZ Community Foundation equips facility and puts in new dining room floor

By
Max Efrein
|
mefrein
Originally Published: November 15, 2018 9:30 p.m.
Prescott Meals On Wheels pitched the need for a new kitchen to the Arizona Diamondbacks and Arizona Community foundations. They caught the ball, funded the project and the nonprofit ran with it.

On Wednesday, Nov. 14, the kitchen was unveiled to the general public, and several representatives from both donors attended to show their continued support.
"Every year, we receive applications from over 200 organizations that are applying for funds, and we look for organizations that are doing it the right way," said Debbie Castaldo, Executive Director of the Arizona Diamondbacks Foundation. "In this case, $35,000 is all [Prescott Meals On Wheels] asked for and it completely transformed them."
With that chunk of money from the Diamondbacks, Prescott Meals On Wheels was able to put down a new floor in its dining room and buy several major pieces of kitchen equipment.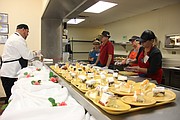 An additional $10,000 from the Arizona Community Foundation of Yavapai County improved matters even more, allowing Prescott Meals On Wheels to purchase an industrial-sized stove.
"We were proud to be able to do it," said Arizona Community Foundation of Yavapai County Regional Manager Carol Chamberlain.
The kitchen has been desperately needed by Prescott Meals On Wheels since it began serving Prescott Valley in July, 2017, said Bert Ijams, executive director of the non-profit.
"We had to expand our capacity to meet that demand," Ijams said. "We're doing scratch cooking, in batches, keeping it safe temperature wise, so that we can turn out more meals faster."
Last year, the organization served a total of 65,000 meals. This year marks its 45th of operation. Since 2007, it has been operating out of the Adult Center of Prescott, 1280 E. Rosser St.
More like this story
SUBMIT FEEDBACK
Click Below to: