Avoid the flu: Get a vaccination now, Arizona health department says

By
Nanci Hutson
|
HutsonNanci
Originally Published: November 13, 2018 10:15 p.m.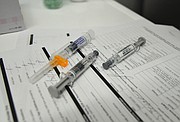 With Thanksgiving just a week away, and Christmas following on its heels, no one wants to have to cancel holiday plans because they contracted the flu.
Yavapai County Community Health Services Epidemiologist Stephen Everett said the good news is that flu season has not hit full force as yet.
"So far, it's been really quiet," said Everett who has received only two confirmed cases three weeks into what is considered the beginning of flu season.
The Arizona Department of Health has confirmed 96 cases, just slightly higher than last year at this time, according to Cronkite News.
In a typical year, Everett said flu season doesn't kick into full gear until right around Thanksgiving through December and into the first half of February. By mid to late-spring, flu season is pretty much over, he said.
From all reports he receives, and trends in Australia that are a harbinger for what happens in this region of the United States, Everett said he suspects this will be a milder flu season than last year.
But who wants to take the chance? Everett queried.
The Arizona Department of Health reported 35,570 cases, or three times the average of three prior seasons; 1,178 deaths were reported, compared with a five-year average of 740 flu-related deaths, according to Cronkite News.
"Most seasons we are the last to see the peak," said Everett who knew of only two flu-related deaths in the county last year.
Everett's advice to stay healthy this year: get a flu vaccination now. The vaccine takes a couple weeks to be effective because it takes that long for antibodies to build up and deflect the virus.
There is an ample supply of flu vaccine at various area pharmacy clinics, doctor's offices and at the Health Department, Everett said. For those who might be squeamish about needles, Everett said the nasal spray is available at many places and proves to be just as effective.
Most insurances and Medicare will cover the cost, or the department offers low-to-no-cost options.
"This is the perfect time (to get a vaccination)," said Everett who times his own annual shot for right after Thanksgiving though there is no deadline.
Everett, too, recommends older adults who have not been vaccinated against pneumonia to consider getting that protection, too. Flu can be nasty, even deadly, though it's still rare, but for those with weakened immune systems flu can trigger other opportunistic illnesses such as pneumonia that can prove fatal, Everett said.
All school-aged children, and teachers, should get vaccinated because schools tend to be "germ factories," with the vaccination not only protecting the person who gets one but all those who they interact with on a daily basis, Everett said.
If people do succumb to flu – a respiratory illness that comes with fevers of 100 degrees or higher combined with cough, sore throat or both – they need to be vigilant about their hygiene, regular handwashing and covering mouth when sneeze or cough, Everett said. They also should stay home from work, he said.
"If you're sick, and you want to be a trooper and go to work, and you get everybody else sick, then you have to do their work, too," Everett said.
Everett and other medical professionals emphasize that flu is highly contagious, particularly dangerous to young children and the elderly.
Flu vaccines are not foolproof, Everett admits. Someone can still get sick after a vaccination, but it lowers the chance and the longevity. It is, however, impossible to get the flu from a vaccination as it is not a live virus.
"I'd rather a stick in the arm than be miserable at home for a few days," he concluded.
More like this story
SUBMIT FEEDBACK
Click Below to:
This Week's Circulars
To view money-saving ads...