Roundup: Elliott, Prescott lead Cowboys past Eagles
NFL
Originally Published: November 11, 2018 10:33 p.m.
PHILADELPHIA — Ezekiel Elliott had 151 yards rushing and his go-ahead 1-yard touchdown run in the fourth quarter helped the Dallas Cowboys beat the Philadelphia Eagles 27-20 on Sunday night.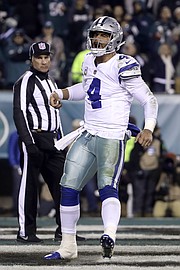 The defending Super Bowl champion Eagles fell to 4-5 with their third straight loss at home while the Cowboys improved to 4-5.
Dak Prescott had 270 yards passing, tossed for one touchdown and also ran for a score. Elliott also had a TD reception.
Carson Wentz threw a pair of TD passes to Zach Ertz, but his pass to Ertz on fourth down fell a yard short of a first down at the Cowboys 29 with 1:09 left. The Eagles got the ball back at their 32 with 40 seconds left and drove to the Cowboys' 32 for the final play. Wentz completed a pass to Ertz inside the Dallas 10. Ertz lateraled to Golden Tate but he was tackled for no gain to end it.
It was a defensive battle into the third quarter before the offenses went back-and-forth.
Elliott ran in from the 1 to give Dallas a 27-20 lead after Prescott completed passes of 24 yards to Amari Cooper and 23 yards to Allen Hurns on the drive.
Coming off a bye, the Eagles were listless in the first half and trailed 13-3 before rallying to tie it on Wentz's 15-yard TD pass to Ertz late in the third quarter. Wentz connected with Jordan Matthews for 18 yards on third-and-11 to extend the drive. He hit him again for 12 yards on the next play and found Ertz a few plays later.
Prescott tossed a 7-yard TD pass to Elliott to give Dallas a 20-13 lead on the ensuing possession. Elliott accounted for 57 of the 75 yards on the drive.
But the Eagles answered. Wentz hit Nelson Agholor, who made an excellent catch for a 51-yard gain to the Cowboys 8. Wentz found Ertz in the back of the end zone for a 1-yard TD pass to tie it at 20-20.
Titans 34, Patriots 10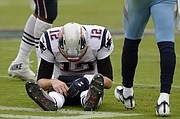 NASHVILLE, Tenn. (AP) — Tom Brady added another big chunk of NFL history to his resume. The Tennessee Titans made sure the Patriots quarterback didn't finish his 300th game.
The Titans sacked Brady three times and hit him repeatedly as they beat New England 34-10 Sunday, snapping a seven-game skid against the Patriots in Mike Vrabel's first game as head coach against the team he helped win three Super Bowls.
It was the most sacks allowed in a game this season by the Patriots (7-3), and coach Bill Belichick pulled Brady for Brian Hoyer midway through the fourth quarter.
Only Brett Favre (326) has played in more games, both regular season and postseason, as a quarterback than Brady. The three-time NFL MVP also needed only three touchdown passes to tie Peyton Manning (579) for the NFL record for most TD passes all time for both the regular season and postseason. He left having thrown for 254 yards and no TD passes.
Marcus Mariota capped each of the first two drives with TD passes, and Derrick Henry ran for a pair of TDs. Ryan Succop also added two field goals as the Titans (5-4) scored a season high in points after jumping to a 17-3 lead in the first quarter.
SAINTS 51, BENGALS 14
CINCINNATI (AP) — Drew Brees threw three touchdown passes in the first half, moving ahead of Brett Favre for second place on the career list, and the Saints rolled to their eighth straight victory.
Brees led the Saints to touchdowns on all five first-half possessions with a nearly perfect performance — only two incompletions. His 17-yard TD to Michael Thomas with 2 seconds left in the half gave him 509 career touchdown passes, one more than Favre.
Up next: Peyton Manning's record 539.
Brees had his way with the Bengals' historically bad defense , even diving over the pile to score a 1-yard touchdown. Cincinnati (5-4) became the first team in the Super Bowl era to give up 500 yards in three consecutive games; New Orleans finished with 509.
The Bengals matched the most lopsided defeat in franchise history and gave up the second-most points in club history.
PACKERS 31, DOLPHINS 12
GREEN BAY, Wis. (AP) — Aaron Jones ran for career highs of 145 yards and two scores, Aaron Rodgers and Davante Adams connected for two touchdown passes.
The Packers (4-4-1) pulled away in the second half, sandwiching scoring drives around cornerback Bashaud Breeland's interception deep in Miami territory. Green Bay went ahead 28-12 on Adams' 25-yard touchdown catch with 7:24 left in the third quarter.
Maybe this is the game that will get the Packers going in the tight NFC North race following a choppy first half of the season.
Rookie Jason Sanders tied a Dolphins franchise record with four field goals, but Miami (5-5) couldn't find the end zone. The Dolphins squandered another opportunity on the game-opening drive after Brock Osweiler fumbled away a shotgun snap.
Chargers 20, RAIDERS 6
OAKLAND, Calif. (AP) — Philip Rivers threw two touchdown passes, Melvin Gordon gained 165 yards and the Chargers won their sixth straight game.
Rivers bounced back from a first quarter with no completions to throw an 11-yard TD pass to Keenan Allen in the second quarter to give the Chargers (7-2) the lead for good. He hit a 66-yarder to Gordon on the opening drive of the second half.
Los Angeles coasted from there against the Raiders (1-8), who have lost five straight games by at least 14 points under coach Jon Gruden.
RAMS 36, SEAHAWKS 31
LOS ANGELES (AP) — Brandin Cooks rushed for a 9-yard touchdown on the first snap after Dante Fowler forced and recovered a fumble by Russell Wilson, and the Rams bounced back from their first loss of the season.
Jared Goff passed for 318 yards and two touchdowns, and Todd Gurley rushed for 120 yards and a score as the Rams (9-1) swept the season series with their division rivals.
Los Angeles moved into commanding position for its second consecutive NFC West title, but only after plenty of late drama in a rivalry that's never lacking in excitement.
Wilson threw three touchdown passes, rushed for 92 yards and nearly rallied the Seahawks (4-5) all the way back after his fumble.
BROWNS 28, FALCONS 16
CLEVELAND (AP) — Rookie Baker Mayfield threw a season-high three touchdown passes and rookie Nick Chubb streaked 92 yards for a TD as Cleveland ended a four-game losing streak.
The Browns (3-6-1) played their most complete game this season under interim coach Gregg Williams, their defensive coordinator who improved to 1-1 since replacing the fired Hue Jackson.
Mayfield outplayed Falcons star quarterback Matt Ryan with a performance that further justifies Cleveland's decision to take the QB with the No. 1 overall pick in this year's draft. Mayfield completed his first 13 passes and finished 17 of 20 for 216 yards. He threw a 28-yard scoring pass to Rashard Higgins, a 13-yarder to Chubb, and 11-yarder to Duke Johnson.
Ryan and the Falcons (4-5) had their three-game winning streak — and any playoff momentum — stopped cold.
And while Mayfield did damage, Chubb's record run was the backbreaker.
BEARS 34, LIONS 22
CHICAGO (AP) — Mitchell Trubisky threw for 355 yards and three touchdowns, and the NFC North-leading Bears snapped a 10-game losing streak against division opponents.
The Bears (6-3) had dropped nine of 10 against Detroit (3-6) and were seeking their first victory over a division opponent since Oct. 31, 2016, against Minnesota.
Chicago jumped to a 26-7 halftime lead with Trubisky and Allen Robinson leading the way. And the Bears surpassed their win total from last year with their third straight victory.
Trubisky completed 23 of 30 passes against a short-handed secondary, with standout cornerback Darius Slay sidelined by a knee injury.
Allen Robinson caught six passes for 133 yards and two TDs after missing two games with a groin injury.
Rookie Anthony Miller added a career-high 122 yards on five receptions, including a 45-yard TD and a 55-yard catch.
REDSKINS 16, BUCS 3
TAMPA, Fla. (AP) — Alex Smith threw for 178 yards and one touchdown, and Dustin Hopkins kicked three field goals for the Redskins (6-3), who forced four turnovers and rebounded from a lopsided loss to Atlanta despite playing with a makeshift offensive line because of mounting injuries.
Smith, who was 19 of 27 with no interceptions, threw 6 yards to Josh Doctson for the game's only touchdown early in the fourth quarter. Hopkins kicked field goals of 43, 43 and 26 yards, the last set up by Greg Stroman's fourth-quarter interception and 24-yard return to the Bucs 14.
Ryan Fitzpatrick threw for 403 yards for Tampa Bay (3-6), but was intercepted twice and lost a fumble on a sack inside the Washington 10.
COLTS 29, JAGUARS 26
INDIANAPOLIS (AP) — Andrew Luck threw three touchdown passes in the first half and the Colts' defense forced a late turnover. Indy (4-5) has won three straight.
Tight end Eric Ebron had a career-high three touchdowns, including one on a 2-yard run, all in the first half.
Blake Bortles threw for 319 yards and two TDs, but the Jaguars (3-6) came up short when Kenny Moore III stripped the ball from Rashad Greene Sr. and Malik Hooker recovered for the Colts with 1:24 to go. Initially, Greene was ruled down by contact, but it was overturned on a replay review from the booth.
Jacksonville has lost five straight and six of seven since starting 2-0.
BILLS 41, JETS 10
EAST RUTHERFORD, N.J. (AP) — Matt Barkley stunningly sparked Buffalo's bumbling offense with two touchdown passes, including one to offensive tackle Dion Dawkins. LeSean McCoy broke out of a season-long slump with 113 yards rushing and a pair of TD runs.
Barkley made his first start in nearly two years, and looked the best of any of the four quarterbacks the Bills (3-7) have trotted out this season. The 28-year-old journeyman was 15 of 25 for 232 yards while helping Buffalo snap a four-game losing streak as the Bills put up 451 yards of total offense.
Barkley got the nod from coach Sean McDermott ahead of the ineffective Nathan Peterman despite having just two weeks of practice with the Bills since signing on Oct. 30.
More like this story
SUBMIT FEEDBACK
Click Below to: