Prescott boys, girls take 2nd at state cross-country championships
Prep Cross-Country

Originally Published: November 11, 2018 7:36 p.m.
Alec Almendarez, Lisandro McCarter, Makenna Bray and Emily McMahon finish in Top 10
PHOENIX — With four runners finishing in the Top 10 at the Division III Cross-Country State Championships, the Prescott boys and girls teams took second overall at state Saturday morning.
At the Cave Creek Golf Course, the Badger boys team scored 114 points, well behind a Page club (35 points) that had the top three runners cross the finish line within 35 seconds of each other.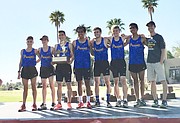 Alec Almendarez was the top finisher for Prescott, taking eighth overall with a 16:53.8 time, while Lisandro McCarter was ninth with a 16:56.2 time.
Bowen Martin (16:02.1), Morgan Fowler (16:19.7) and Trent Holiday (16:37.6) took home all three medals for Page.
Salpointe Catholic finished third overall with 152 points, Tuba City was fourth with 183 points and Rio Rico wrapped up the top five with 236 points.
Tuba City's Aaron Simien finished fifth overall with a 16:52 time.
GIRLS
For the girls, Prescott scored 129 points as Makenna Bray crossed the finish line with a seventh overall placement at 20:08.1 time. Emily McMahon was right behind her, taking eighth overall with a 20:10.6 time.
The Badgers had four runners in the top 26, with the only club to do better winning the title as Salpointe Catholic scored 66 points and had four runners in the top 14.
Prescott's other two runners in the top 26 included Tea Castro, who finished 25th overall with a 21:03.4 time, while Michelle Parent was 26th with a 21:11.0 time.
Ganado (145 points), Coconino (174 points) and Page (196 points) were third, fourth and fifth respectively.
Brian M. Bergner Jr. is news/sports editor for The Daily Courier of Prescott News Network. Follow him on Twitter, Facebook, Instagram and SoundCloud at @TheEditorDesk. Email bbergner@prescottaz.com or call 928-445-3333, ext. 1106.
More like this story
SUBMIT FEEDBACK
Click Below to: