WWII veteran was witness to sinking of USS Yorktown
Prescott veteran at the Battle of Midway Island

By
Nanci Hutson
|
HutsonNanci
Originally Published: November 10, 2018 10:45 p.m.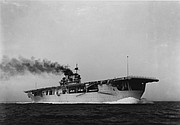 Donald Brubaker didn't want to be an Ohio farmer.
So he joined the United States Navy right out of high school — the year was 1938.
The young sailor could have no way of knowing he would own a front row seat to world history.
For certain, Brubaker could not imagine he would live long enough — 99 years and three months — to tell an up close and personal account of the renowned World War II Battle of Midway Island.
"I was on the USS Yorktown," declares the now Highgate Senior Living resident whose memory of the Japanese dive bomb attacks and torturous aftermath at the Battle of Midway Island remain vivid, despite the passage of time.
The afternoon of June 4, 1942, six months after the stunning, war-provoking Japanese attack on Pearl Harbor, the young Brubaker was a ground crew mechanic aboard one of the largest remaining carriers in the Pacific Fleet. He remembers the immense shudder and explosion of bombs striking first the boilers and then two more to the port side, with the third delivering the worst blow.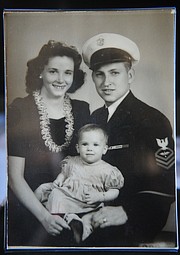 "It just shook," said Brubaker, who remembers racing to load the wounded into life rafts before finally jumping overboard, one of the last to depart the carrier. "We had no power."
He said he can still hear the captain's voice telling all the remaining sailors aboard to "abandon ship."
With just a life jacket for protection, Brubaker said once he got in the water he started swimming toward one of the destroyers performing rescue duties, the USS Hammann. Once he prepared to climb up the side, a crewman told him he would have to wait. He doesn't recall exactly how long he was forced to tread water, but he expects it was a couple hours. Amid dive bombers in the sky and enemy submarines below, and sharks, the wait seemed interminable, he said.
Once he was rescued, he was quickly transferred to one of the nearby cruisers.
The timing proved serendipitous.
From Brubaker's vantage point aboard the cruiser, Brubaker witnessed the sinking of both the USS Yorktown and the destroyer USS Hammann; today he admits to awe and gratitude he managed to survive.
Asked if he feared for his life, Brubaker said, "I didn't have time to be nervous."
"I didn't suffer any bloodshed. No Purple Heart," Brubaker said with a chuckle.
Brubaker's naval sojourn to the USS Yorktown was circuitous. He started his Navy career at boot camp in the Great Lakes before he was transferred to San Diego and assigned to the USS Lexington. When that carrier was dispatched to search for the missing adventurer pilot Amelia Earhart, Brubaker ended up part of a squadron sent to Norfolk, Virginia. It was there that he was assigned to the USS Yorktown.
With no plan to make the Navy a career, Brubaker's plans changed quickly on Sunday, Dec. 7, 1941.
He was on leave when the Japanese attacked Pearl Harbor. He and his comrades were quickly alerted to return to ship.
"That's when I knew we were going to war," Brubaker said.
One of Brubaker's keepsakes is his military diary that lists all of his assignments and ports throughout his 22.5-year career, including those leading up to the Battle of Midway Island. He, too, has a copy of a military magazine article that describes the sinking of the USS Yorktown — with images that Brubaker said are forever embedded in his mental archives.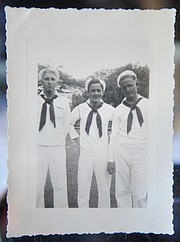 After the war, Brubaker and his family traveled the world, with assignments stretching from Daytona Beach, Florida, to a two-year stay in Japan. He retired in San Diego as a chief warrant officer. He then spent another 18 years working for the city as the pier director of commercial shipping.
"We had a good life," Brubaker said.
Brubaker's son, Donald Jr., who lives in Prescott, said his father's accounts of his time on the USS Yorktown are quite detailed, his mind sharp and patriotism keen.
"He might forget what he did yesterday, but he won't forget what he was doing 70 years ago," said Brubaker Jr. of the father who has outlived two wives, Willise and Betty. He has a daughter, Barbara Jean, in Baltimore, and five adult grandchildren.
A congenial gentleman who prides himself on good manners, Brubaker's sole nod to age is a mobile wheelchair.
He bakes a tasty apple pie; the recipe requires Fuji apples.
He's a baseball fan; he was disappointed the Diamondbacks didn't have a better showing this year. He steers away from politics — too nasty, he says.
He shares a common veteran lament: the no-end-in-sight war against terrorism in the Middle East.
"I don't know why we want to keep struggling," Brubaker said.
With his father in an ever-dwindling fraternity, Donald Jr. is glad he is sharing his recollections. He has immense pride in the role his father played at a turning point of America's military history.
"Of course, we always honor him on (Veterans Day)," he concluded.
More like this story
SUBMIT FEEDBACK
Click Below to:
This Week's Circulars
To view money-saving ads...