Cookie contest winners crowned
Originally Published: November 10, 2018 4:26 p.m.
Winners from the The Daily Courier and Fry's grocery stores' eighth annual holiday cookie contest were crowned Saturday, Nov. 10, 2018.
Three winners were selected from each Fry's Store in the quad-city area, Glassford Hill in Prescott Valley, Willow Creek and Fair Street both in Prescott.
All three winners from each store will be given an apron with the cookie contest logo, a certificate and a trophy from Raskin's Jewelers for the first-place winner. Third-place winners also received a $40 gift card: second place will be a $70 gift card, and first-place winners will receive a $125 gift card.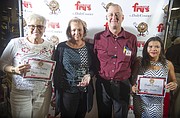 Glassford Hill Winners: third place; Nancy Francis, Dunkers Second Place Debbrah Tubbs, chocolate chip & orange chocolate cookies and First place Sheryl Gardella, Ferrero rocher cookies.
Willow Creek Winners: third place, Lyn Uniacke Salted butter & chocolate chunk toffee shortbread, second place Marilyn Standish, white chocolate raspberry bars and first place Diane Shipman and her key lime pie cookies.
Fair Street Winners: third place, Joan King and her walnut maple cookies, second place Zenaida Espiritu and her chocolate chip cheese bars and in first place was Joan King and pumpkin cheesecake bars.
Look for all of these and other finalist's recipes in the Friday, Nov. 16, 2018 issue of The Daily Courier.
More like this story
SUBMIT FEEDBACK
Click Below to: