Church News: Week of Nov. 10
Originally Published: November 9, 2018 8:15 p.m.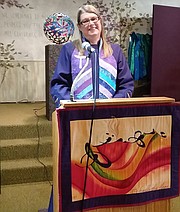 On Oct. 27, Pastor Terry Cummings was jointly ordained by two New Jersey member congregations of the Unitarian Universalist Association. Those congregations are the Central Unitarian Church of Paramus and the Unitarian Universalist Congregation at Montclair, New Jersey. On her ordination day, Rev. Terry said this: "These two congregations, as well as the First Parish Church of Lincoln, Mass, and the Granite Peak UU Congregation of Prescott, Arizona, where I am currently serving as interim minister, have lifted me up, held me close, and taken me into their hearts more than I ever expected." Reverend Terry also said, "To be entrusted with the responsibilities of UU ministry is a joy and a privilege that makes me feel very humble. I would never have made it this far without the love and guidance of my seminary professors, mentors, fellow clergy, family and friends. They say that a person who loves what they do doesn't work a day in their life. I feel that way about my work as a minister."
Reverend Terry was granted preliminary ministerial fellowship by the Unitarian Universalist Association last May. She earned her Master of Divinity degree from Union Theological Seminary in New York City in 2016 and completed clinical pastoral education as a chaplain at Overlook Hospital in Summit, New Jersey. Rev. Cummings also served as a Ministerial Intern at the First Parish in Lincoln, MA and was a Student Minister of Central Unitarian Church in Paramus, New Jersey.
Prior to entering the seminary, she was a member of the U.U. Congregation at Montclair, New Jersey. Rev. Cummings' first career was in the legal profession for three plus decades. She co-owned and managed a small general practice law firm in New York City. She holds a Bachelor of Laws degree from the London School of Economics and Political Science.
On Nov. 11, Reverend Terry's sermon topic is "Freedom isn't free." She will lead the congregation in honoring the service and sacrifices of all of those who have worn and who wear the uniforms of the nation's armed forces.
A Bible-based tour of the Grand Canyon, led by Russ Miller, www.creationministries.org, the only full-time creation speaker in Arizona, will be on Saturday, Nov. 10, leaving Prescott at 8 a.m. and returning at approximately 7 p.m. We use Master's Touch Christian bus service, and includes the fee into the park, lunch, snacks and bottled waters throughout the day, Russ' fee and the bus fee. This is the best way to learn creation apologetics and how to defend the Christian faith. For more information or to sign up for the tour, call David McNabb at 928-771-1218.
The Center for Spiritual Living, Prescott located at 3755 Willow Creek Road, is having its annual Crafty Christmas Boutique Sale from 10 a.m. to 5 p.m. Saturday, Nov. 10, featuring handmade arts and crafts by local artists, with free parking and admission.
The Center for Spiritual Living is an inclusive spiritual community that honors all paths to God and whose mission is to provide practical spiritual tools and life-enhancing, inspirational programs that recognize, honor, and nurture personal transformation, supporting a world that works for everyone. All are welcome at weekly services starting with a brief Guided Mediation every Sunday at 10 a.m. before the Service at 10:30 a.m., and the services feature inspiring local guest musicians each week.
The Youth Program is also at 10:30 a.m. on Sunday (It helps if you come 15 minutes early to register children). Coffee and refreshments are served after the service. Our bookstore is open on Sundays after service and during weekday business hours. For more information see www.CSLPrescott.org or call 928-778-1602.
All are welcome to join Beit Torah Jewish Congregation (www.onetorah.org) for the Global Day of Jewish Learning on Nov.11. We also wish everyone a safe Veterans Day weekend as we honor our Veterans. For details, 928-237-0390, 928-227-0582 or email ansheitorah@cableone.net .

American Lutheran Church hosts The Rose-Gibbs Duo in concert at 3 p.m. Sunday, Nov. 11 in the church sanctuary. The concert is open to the public.
Benita Rose and Tony Gibbs have performed throughout the United States as a piano-sax duo. They were top prize winners in the 2008 International Chamber Music and Ensembles Competition, professional division, held in Boston. They are frequent recitalists, presenting beautifully varied sax-piano programs. Tony Gibbs, saxophonist, performed with the U.S. Coast Guard Band from 1980-2000, delighting audiences around the world with his virtuoso solos and sultry sounds. His audiences have included four United States presidents as well as other dignitaries, National Public Radio and Radio Free Europe audiences. During this period he also performed at international saxophone symposiums. Mr. Gibbs was also a music teacher for Coventry Public Schools for many years. Currently he is the vocal music teacher at Abia Judd Elementary School. He holds degrees from Northwestern University and the University of Connecticut. Concert pianist Benita Rose is in demand not only as half of the Rose-Gibbs Duo, but also as a soloist. Recently relocated to Prescott, she is organist/pianist at American Lutheran Church and piano soloist on the Prescott Chorale and Arizona Philharmonic Concert Series. She gives recitals often and has received acclaim as soloist with orchestras, performing concertos from Mozart, Liszt, Schumann, and Gershwin. She has been heard on over two-hundred radio stations on Martin Goldsmith's "Performance Today." Ms. Rose ran a successful piano studio in Connecticut, "Rose International Piano Conservatory," where she enjoyed many prize-winning students. She has served as organist/pianist at Bethany Lutheran Church in West Hartford where she gave annual organ recitals; Assistant Organist at St. Joseph's Church in Shelton, and Director of Music Ministries of Avon Congregational Church. She holds degrees from the Hartt School and the University of Connecticut.
Choirs and musicians from quad-city area churches will present the fifth annual interfaith Celebration of Thanks free concert 6 p.m. Thursday, Nov. 15, at St. Luke's Episcopal Church, 2000 Shepherds Lane in Prescott (near the Prescott Airport). Bring a non-perishable food item to stock the St. Luke Food Pantry, or a monetary donation to benefit Yavapai County Suicide Prevention. For more information, call 928-632-3100 or email media@slecp.org.
Universalist Fellowship will present "Fighting For Our Vets!" a program honoring our American Veterans at 11 a.m. Nov. 11 service. Guest speaker is Jose Lujan, Patient Business Service Manager of the Yavapai County Veterans Affairs Medical Center in Prescott.

Mr. Lujan will update the congregation on the VA's quality health care services provided to all veterans whether or not they served during war time. These include veterans of the US Army, US Marine Corp, US Navy, US Air Force, US Coast Guard, Army National Guard, Air National Guard, Commissioned Officers and the US Public Health Services.

The VA Motto, adopted in 1959, says "We care for him who shall have borne the battle and for his widow and his orphan." President Lincoln. Today, the VA leads the world in research in PTSD, spinal cord injuries and prosthetics. As of March, 2017, nearly 4 million veterans receive compensation for health care and disabilities, as well as half-a-million widows and families.
Please join us at Prescott U. U. Fellowship, 945 Rancho Vista Drive, Prescott, to learn more about this important national program that is the largest employer of physicians, nurses and social workers.
The Lutheran Women's Missionary League's Annual Bazaar, Bake Sale and Quilt Raffle at Shepherd of the Hills Lutheran Church will take place from 9 a.m. to 3 p.m. Friday, Nov. 16 and Saturday, Nov. 17. Handcrafted items of all types will be featured. A Silent Auction featuring collector items will also be held. A light lunch will be available for purchase. In addition to the Bazaar items, the church's new cookbook, just published, will be for sale for the first time to the public at a cost of $12. All proceeds support Prescott area charities. Supporting funds for the event will be contributed by Thrivent Financial for Lutherans. The church is located at 1202 Green Lane in Prescott. For further information, contact Jan Krebs, 928-778-1672 or the church office at 928-778-9122.
Starting Point Church, 3106 Gateway Blvd., Prescott Gateway Mall, next to Pier 1 is having a grand opening Nov. 16-18. There will be an open house from 5 to 8 p.m. Friday, Nov. 16. From 11 a.m. to 1:30 p.m. Saturday, Nov. 17, enjoy pickleball, friends and more (light lunch, bring paddle for a free coffee from the Third Shot Coffee Café. At 5 p.m. Nov. 17, there will be a community and appreciation celebration with music and food. Finally, at 10:10 a.m. Sunday, Nov. 18, there will be a worship service "Power in a Story" and ribbon cutting. If you have any questions, call JT Schulze at 928-288-2480 or visit www.mysp.church.
Emmanuel Lutheran Church will hold its second annual Christmas Craft Fair from 9 a.m. to 3 p.m. Saturday, Nov. 17. The cost is $20 per table and tables will be provided. Emmanuel Lutheran Church is located at 7763 E. Long Look Dr., Prescott Valley. If interested, please contact Cheryl Miller, 928-830-9648, to reserve a table.
A "Surviving the Holidays" GriefShare grief support group will be from 10 a.m. to noon Saturday, Nov. 17 at Prescott Life Church, 2200 N. Highway 89, Prescott, AZ. To sign-up, please text the word "HOPE" with your name and telephone number to 602-410-8536 or call the number for additional information. This is a support group for those who have experienced the loss of a loved one. Anyone in the community is welcome.
There will be a fall creation seminar put on by the Prescott Creation Society at 1 p.m. Sunday, Nov. 18, at LifePointe Church, 10100 E. Highway 69. Russ Miller will be the speaker. This may be the last time that Russ Miller will be speaking at a seminar in the tri-city area, so come hear him destroy evolution if you can, and bring some young people with you. He will also be speaking at the worship service at 11 a.m., and there will be a box lunch available to buy after the service.
Thanksgiving eve worship service will be at 7 p.m. Wednesday, Nov. 21 at American Lutheran Church, 1085 Scott Dr. Pastor Erich Sokoloski will bring the message, and the Sanctus Choir will present special music. All are welcome to join in giving thanks for God's many blessings. www.americanlutheran.net or 928-445-4348.
There will be a Chino Valley Community Choir Concert held in conjunction with the Chamber and town's "A December to Remember in Memory Park," at 2 p.m., Dec. 8 at Heritage Middle School Cafeteria, 1076 N. Road 1 W., Chino Valley. The entire community, schools, churches, businesses and surrounding areas are welcome to sing in the choir and attend this free event.

Begin the 2018 holiday season creating new memories. Rehearsals scheduled at the Heritage Middle School Cafeteria from 7 to 8 p.m. Nov. 27 and Dec. 6. For more information, contact cvazcommunitychoir@gmail.com.
It's time to sign up for this year's production of Walk Through Bethlehem, American Lutheran Church's Christmas gift to the community. Each year thousands of people attend and experience the sights, sounds and smells of the town of Bethlehem over 2,000 years ago through 30-minute interactive, guided tours. Four hundred-plus volunteers are needed in many different areas to make Walk Through Bethlehem a success. If you would like to participate in this holiday event, volunteer forms are available in the church office, 1085 Scott Drive, throughout the week, or on the website (www.americanlutheran.net). Additional needs for the event include animals (donkeys/mini horses, goats, chickens, and rabbits) and food (coffee, cookies, cases of 8 oz. bottled water).
This year's expanded performance schedule is: 1:30 to 3:30 p.m. Wednesday, Nov. 28 6 to 8 p.m. Thursday, Nov. 29, 6 to 8 p.m. Friday, Nov. 30, 6 to 8 p.m. Thursday, Dec. 6, 1:30 to 3:30 p.m. Friday, Dec. 7, and 6 to 8 p.m. Saturday, Dec. 8.
Important Walk Through Bethlehem dates are as follows: Costume Fittings: 9:30 a.m. to noon Sundays, November 18 and 25 from 5 to 6 p.m. Tuesday, Nov. 27. Orientation: 6 to 7 p.m. Tuesday, Nov. 27; 6 to 8 p.m. Dec. 8. For more information on Walk Through Bethlehem, contact the church office at 928-445-4348.
Christian Science Society, 410 E. Gurley St., Prescott, invites all to a special Thanksgiving Day church service at 10 a.m. Thursday, Nov. 22. Please feel free to come and bring your family and friends. The Golden Text is Colossians 3:15.
"Jingle Bells" Christmas Gift Faire and Bake Sale from 10 a.m. to 2 p.m. Saturday, Dec. 1 at Prescott Valley United Methodist Church, 8944 E. Sommer Drive, Prescott Valley (nearest cross streets are Navajo Drive and Sommer Drive). There will be a great variety of arts and crafts from the quad-cities and delicious bake sale items too. For more information, contact Jeannie at 928-772-6760.
Ebenezer Scrooge Radio Drama will be at 7 p.m., Dec. 5 at First Congregational Church, 216 E. Gurley St., Prescott. Dickens' classic, timeless tale of a miserly old man convinced to change his ways by the visit of three spirits comes to life as a one-hour Radio Drama. Free admission.
More like this story
SUBMIT FEEDBACK
Click Below to: